Planning a gathering and wondering about chicken salad portions? You're in the right place. Understanding the right amount of chicken salad to make is key to keeping everyone satisfied without leftovers going to waste. Let's dive into how much chicken salad per person and explore different amounts of sandwiches and croissants.
How Much Chicken Salad Per Person?
When it comes to serving chicken salad cup per person, a typical portion is around 1/2 to 3/4 cup of salad chicken. However, the exact amount can vary depending on factors like the size of the buns or bread you're using, the presence of side dishes, and the appetites of those you're serving. Adjust accordingly to ensure everyone enjoys their meal without leaving too much leftover.
Knowing the right portion of chicken salad to serve can help us avoid food waste. However, in any situation, excess food is unavoidable. Therefore, preservation methods such as freezing chicken salad will bring you benefits in cooking tips.
How Much Chicken Salad For Sandwiches?
How much chicken salad for 20 sandwiches?
You'll need around 5 to 7 cups of chicken salad. It depends on the size of the sandwiches and how hearty you want them to be. This amount allows for a generous serving on each chicken salad sandwich without overwhelming the bread.
If you'd like to get creative, consider offering a variety of sandwiches like classic chicken salad, chicken club sandwiches, or even chicken salad wraps to cater to different preferences and dietary restrictions. Remember, it's always a good idea to have a little extra on hand.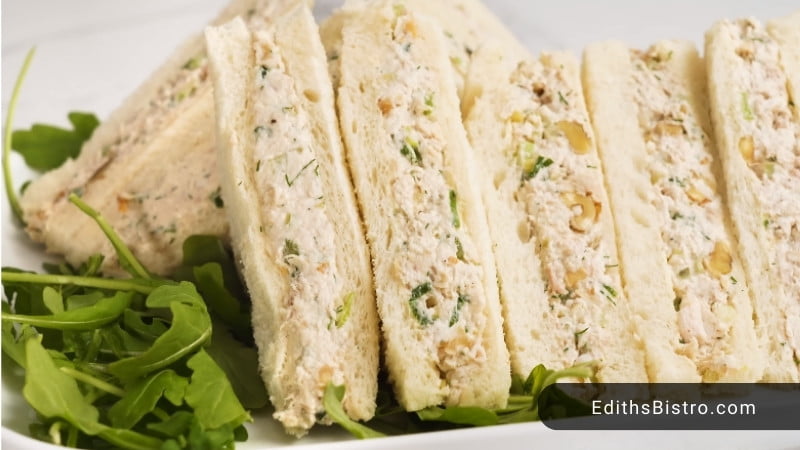 How much chicken salad for 50 sandwiches?
You'll need a larger batch, roughly around 12 to 15 cups of chicken salad. It means 96 to 120 ounces of chicken salad. Such an amount of chicken salad would be ideal for catering events, large family gatherings, or office parties. Serving 50 sandwiches with chicken salad is perfect for occasions where you want a delicious and filling meal that can be easily prepared for a crowd.
Chicken salad for 30 sandwiches?
You'll need 6 to 8 cups of chicken salad. Preparing chicken salad for this many sandwiches is straightforward, but it does require some time and effort, like cooking and shredding chicken and mixing it with mayonnaise (mayo) and other ingredients.
When it comes to sandwich choices, opting for whole wheat or whole grain bread can be a healthier choice compared to white bread, as it provides more fibre and nutrients. You can also consider using lettuce leaves or wraps for a low-carb, gluten-free alternative.
How Much Chicken Salad For Croissants?
How much chicken salad for 50 mini croissants?
You'll need 12 to 15 cups of chicken salad to fill 50 mini croissants. Mini croissants are smaller versions of the classic French pastry, and they have become quite popular in American meals, often used for making delicate and bite-sized sandwiches. Their flaky and buttery texture pairs well with a variety of fillings, including chicken salad. Serving chicken salad on mini croissants is a great main dish for parties, gatherings, or events.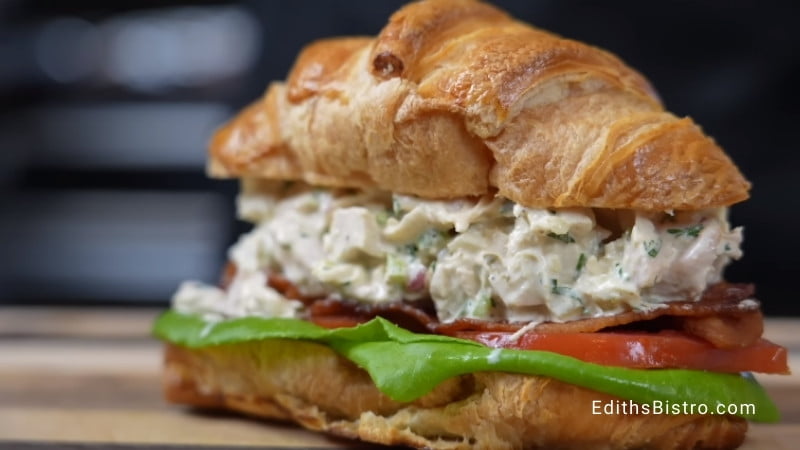 How much chicken salad for 25 croissants?
6 to 7.5 cups are needed to make the chicken salad and fill 25 croissants. Popular options for side dishes include fresh fruit salad, coleslaw, potato salad, or a mixed greens salad with a light vinaigrette.
How Much Chicken Breast Per Person For Chicken Salad?
To prepare chicken salad for a person, you'll need around 4 to 6 ounces of cooked chicken breast. Chicken breast is a lean and healthy source of protein, making it an excellent choice to maintain a balanced diet. It can be combined with various dishes, including pasta salads, sandwiches, and wraps.
FAQs
1 pound of chicken salad feeds how many people?
One pound of chicken salad feeds about 3 to 4 people, depending on the portion size and whether it's served as a main dish or a side. It's always a good idea to adjust based on your guests' appetites and the overall menu.
Chicken salad for 100 people? 
You would typically need around 2 to 2.5 pounds of chicken salad per person, so for 100 people, you'd need approximately 200 to 250 pounds of chicken salad, depending on portion sizes and other dishes you're serving. It's essential to plan and prepare well in advance to ensure you have enough for everyone.
How many pounds of chicken salad per person?
On average, you'd want to plan for about 0.2 to 0.25 pounds (or 3.2 to 4 ounces) of chicken salad per person. However, the exact amount can vary depending on the variety of other dishes you're serving alongside the chicken salad.
References:
Welcome to Edith's French Bistro, an enchanting, high-end French culinary haven located in Plano, Richardson and Allen. Setting itself apart, this restaurant boasts a wide array of artisanal desserts, custom-crafted cakes, a blend of sweet and savory crepes, and an elegant high tea service. Furthermore, it serves invigorating beverages, delicious lunch and dinner main courses, and a delectable weekend brunch. To top it off, they also offer breakfast options throughout the day.
To augment your culinary experience, we've introduced a blog – a rich repository of culinary wisdom designed to inspire and guide individuals on their cooking journey. It's a treasure trove of knowledge spanning from the basics of cooking to more complex and advanced techniques. Whether you are a novice just beginning to explore the culinary landscape or an accomplished chef seeking new inspiration, you'll discover practical, beneficial advice that aligns with your culinary aspirations.