Corned beef, a salt-cured beef product, is known for its savory flavor and versatile use. A common query often arises among food enthusiasts and home cooks: can you freeze corned beef effectively? This article will explore the nuances of freezing corned beef, providing insights on optimal freezing methods, considerations for different types, and more.
Can You Freeze Corned Beef?
Yes, freezing corned beef is possible and can be very effective when done correctly. Both cooked and uncooked corned beef can be frozen, but you need to be careful to keep it tasting good. Freezing isn't just about putting it in the freezer; it needs the right prep, wrapping, and way to warm it up again to keep its flavor and texture. Each corned beef, whether raw, cooked, sliced, or whole, needs its own way of freezing. This lets you enjoy tasty corned beef whenever you want without losing any of its great taste or quality.
Why You Need To Freeze Corned Beef?
Freezing corned beef is useful for several simple reasons. It helps keep the meat fresh for longer, so you can enjoy it even if it's past its usual fridge life. This means you can buy more when there's a sale and save some cash without worrying about it going bad quickly.
Freezing is also a great way to manage leftovers. If you have extra corned beef, instead of rushing to eat it before it spoils, you can just freeze it. This way, you can have it anytime you want, reducing waste and making life a bit easier, especially for those who like to cook big meals or often end up with more food than needed.
Importantly, if you freeze corned beef correctly, it still tastes good and keeps quality. So, whether you like your corned beef raw or cooked, in slices or a whole piece, freezing lets you have it your way anytime you feel like having some without losing its yummy taste and goodness.
Considerations For Different Types Of Corned Beef
Can you freeze uncooked corned beef?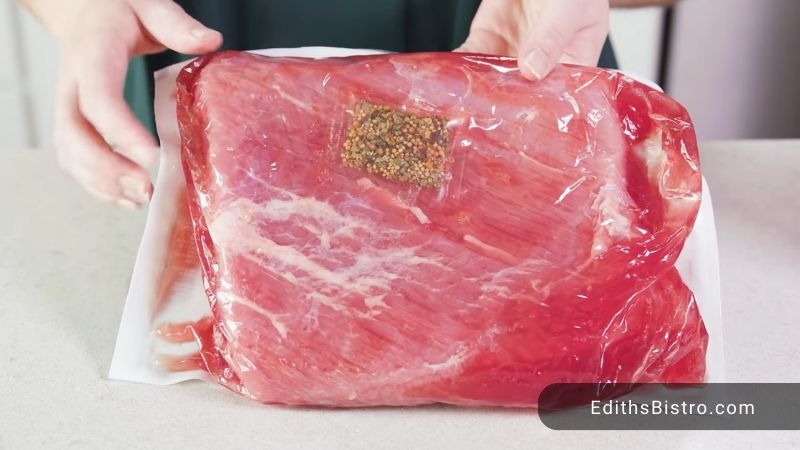 Uncooked corned beef can be frozen but requires meticulous packaging to avoid freezer burn and spoilage. It is crucial to maintain its original packaging or utilize airtight containers or heavy-duty freezer bags. Here's a more detailed approach:
Packaging: Ensure to keep uncooked corned beef in its original, unbroken packaging or in airtight containers or heavy-duty freezer bags to prevent air exposure.
Air Removal: Extract as much air as possible, if not using the original vacuum-sealed packaging, to avoid freezer burn and maintain its quality.
Temperature: Store it in a freezer set at 0°F (-18°C) or lower to ensure the preservation of its quality and freshness.
Can you freeze cooked corned beef?
Freezing cooked corned beef is also feasible, but it's important to cool it completely before packaging. Here are some steps to ensure its quality is maintained:
Cooling: Before freezing cooked corned beef, allow it to cool completely to room temperature to retain moisture and taste.
Wrapping: Wrap it tightly in aluminum foil or plastic wrap before placing it in airtight containers or freezer bags to maintain flavor and avoid freezer burn.
Can you freeze sliced corned beef?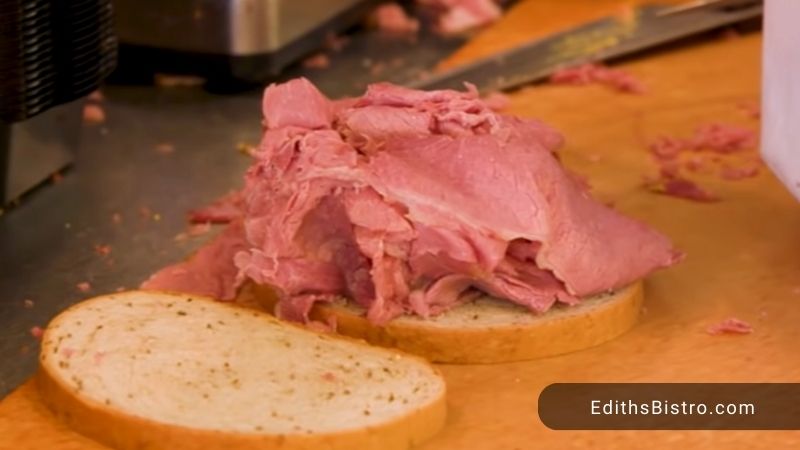 Freezing sliced corned beef is practical and effective when each slice is individually wrapped before being stored in airtight containers. Here's how to do it properly:
Individual Wrapping: Wrap each slice individually to prevent them from sticking together, allowing for easy separation upon thawing and maintaining the integrity of each slice.
Airtight Containers: Use quality airtight containers or heavy-duty freezer bags to store the individually wrapped slices, ensuring the preservation of taste and texture.
How Long Can You Store Frozen Corned Beef?
Storing frozen corned beef properly is essential for maintaining its quality and safety. Ideally, when kept at 0°F or lower, corned beef can be stored for 2-3 months. However, the right packaging and storage conditions can extend this period. Using airtight containers or vacuum-sealed bags and conducting regular checks for any signs of spoilage, like unpleasant odors, discoloration, or ice crystals, can help ensure the meat remains safe and flavorful. It's important to be vigilant and discard the meat if any spoilage is detected, ensuring you enjoy the corned beef at its best quality.
How To Thaw And Reheat Corned Beef?
Safe and effective thawing procedures
Thawing corned beef properly is critical to maintaining its texture, flavor, and overall quality. The safest method is to thaw it in the refrigerator, which ensures the beef remains at a safe temperature throughout the process, preventing the growth of harmful bacteria. However, this method can be time-consuming, especially for larger cuts, requiring several days to complete.
For those short on time, submerging the sealed corned beef package in cold water is an effective alternative, although it requires attention. The water should be changed every 30 minutes to maintain its temperature and effectiveness. This method can significantly reduce the thawing time, making it a convenient option for unexpected meal plans.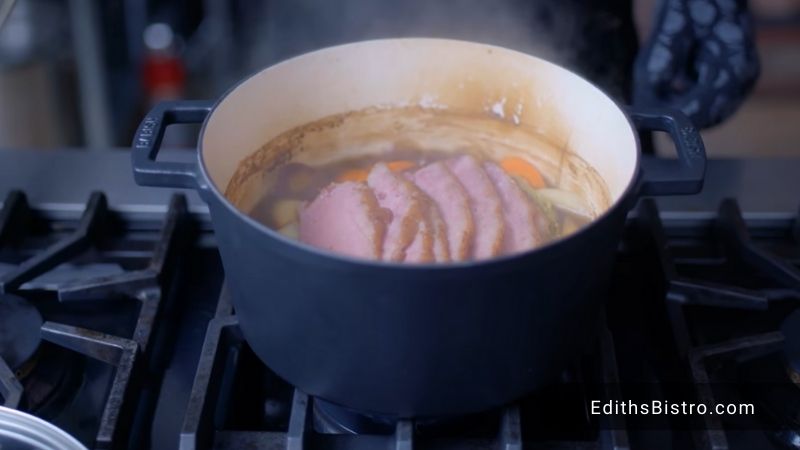 Reheating tips
Once the corned beef is properly thawed, the next step is to reheat it. Slowly and gradually reheat at a low temperature to avoid drying the meat. Whether using an oven, stovetop, or microwave, keeping the temperature moderate and the cooking time optimal is crucial.
Adding a small amount of liquid, such as broth or water, during reheating can aid in retaining the meat's moisture and preserving its savory flavor. Covering the beef with a lid or foil can also trap steam and prevent the meat from drying. Ensuring the beef is warmed thoroughly but not overcooked is the final step to enjoying the delectable taste and tender texture of perfectly thawed and reheated corned beef.
Pro Tips and Best Practices for Freezing Corned Beef
Packaging Matters: Always use airtight containers or vacuum-sealed bags to prevent freezer burn and maintain flavor.
Expel Air: Remove as much air as possible before sealing the package to protect the beef's texture and taste.
Label and Date: Mark the packaging with the date of freezing. This helps track how long the meat has been stored.
Freezer Temperature: Ensure your freezer is set to 0°F or lower for optimal storage conditions.
Flat Freezing: Lay the corned beef flat in the freezer until fully frozen. This speeds up the freezing process and ensures even freezing.
Consider Freeze Portion Sizes: Freeze corned beef in portion sizes you'll use later. This avoids thawing more than needed and refreezing leftovers.
Regular Checks: Periodically inspect frozen corned beef for signs of spoilage such as ice crystals, discoloration, or off smells.
Avoid Refreezing: It's best not to refreeze corned beef once thawed. Plan to consume it shortly after thawing.
FAQs
Can you freeze corned beef hash?
Sure! You can definitely freeze corned beef hash. Use sealed containers to keep their taste and texture, and put parchment paper between individual servings. This helps keep the food's quality and makes it easy to thaw just the amount you need, cutting down on waste and keeping the dish tasty every time.
Can you freeze corned beef and cabbage?
Yes, corned beef and cabbage can be frozen. Still, storing them separately is advisable due to their distinct thawing and reheating needs. Cabbage tends to become mushy when frozen and thawed, so separating them allows for better control over the meat and vegetable texture and quality upon reheating, ensuring a more enjoyable culinary experience.
Can you freeze tinned corned beef?
Yes, you can freeze canned corned beef, but some important steps must be followed to maintain its quality. You should take the corned beef out of the can before freezing it, as the contents can expand and potentially cause the can to burst. After removing it from the can, wrap the corned beef well in plastic wrap or aluminum foil or put it in a sealed container or a strong freezer bag. This helps avoid freezer burn and keeps the flavor and texture intact.
References:
Welcome to Edith's French Bistro, an enchanting, high-end French culinary haven located in Plano, Richardson and Allen. Setting itself apart, this restaurant boasts a wide array of artisanal desserts, custom-crafted cakes, a blend of sweet and savory crepes, and an elegant high tea service. Furthermore, it serves invigorating beverages, delicious lunch and dinner main courses, and a delectable weekend brunch. To top it off, they also offer breakfast options throughout the day.
To augment your culinary experience, we've introduced a blog – a rich repository of culinary wisdom designed to inspire and guide individuals on their cooking journey. It's a treasure trove of knowledge spanning from the basics of cooking to more complex and advanced techniques. Whether you are a novice just beginning to explore the culinary landscape or an accomplished chef seeking new inspiration, you'll discover practical, beneficial advice that aligns with your culinary aspirations.