Wondering how to cook chicken sausage in oven for a delightful and nutritious meal? Look no further! In this post, we'll give you the best recipe to cook chicken sausages in oven, some general information and handy tips to ensure your chicken sausages turn out perfectly cooked every time.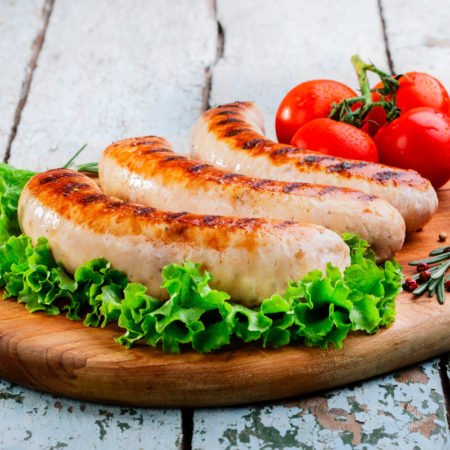 How To Cook Chicken Sausage In Oven? Best Recipe
Indulge in the scrumptious goodness of oven-baked chicken sausages! This simple and wholesome recipe guarantees tender, juicy sausages bursting with flavor. Whether you're hosting a family dinner or seeking a quick weeknight meal, these oven-baked chicken sausages are sure to satisfy your taste buds.
Equipment
Baking sheet lined with parchment paper

Oven
Ingredients
4

chicken sausages

pre-cooked or uncooked

1

tbsp

olive oil

1

onion

thinly sliced

1

bell pepper

thinly sliced

1

c

broccoli florets

Salt and pepper

to taste
Instructions
Preheat the Oven: Preheat your oven to 400 degrees Fahrenheit (200°C).

Prepare the Veggies: In a bowl, toss the sliced onions, bell peppers, and broccoli florets with olive oil, salt, and pepper until evenly coated.

Arrange the Sausages: Place the chicken sausages on the parchment-lined baking sheet, leaving enough space between each sausage.

Add the Veggies: Spread the seasoned veggies around the sausages on the baking sheet, ensuring they are evenly distributed.

Bake in the Oven: Place the baking sheet in the preheated oven and bake for 15 minutes.

Turn the Sausages: After 15 minutes, carefully turn the sausages to ensure even cooking. Continue baking for an additional 10-12 minutes or until the sausages are fully cooked and the vegetables are tender.

Serve and Enjoy: Remove the baking sheet from the oven and let the sausages rest for a minute before serving. Plate the sausages alongside the roasted veggies for a wholesome and delicious meal.
Notes
You can use any variety of chicken sausages, such as Italian or smoked, based on your preference.
If using pre-cooked chicken sausages, adjust the cooking time to 8-10 minutes in step 6.
For a keto-friendly option, replace the onion and bell pepper with low-carb veggies like zucchini or cabbage.
How do you tell if sausages are cooked properly?
To make sure sausages are cooked just right, you can rely on a meat thermometer. When cooking chicken sausages, ensure they reach an internal temperature of 165 degrees Fahrenheit (74 degrees Celsius). Also, check that the sausages have a consistent color, feel firm when touched, and don't have any pink or raw meat inside.
What Exactly Is Chicken Sausage?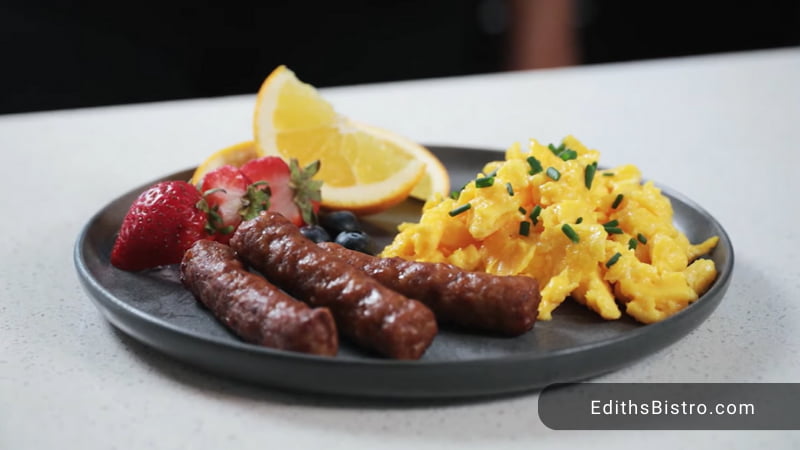 Chicken sausage is a tasty and healthier option compared to regular pork sausages. It's made from ground chicken meat mixed with various herbs and spices, resulting in a savory and delicious sausage loved by meat enthusiasts and health-conscious folks alike.
Unlike pork sausages, chicken sausages are lower in fat, making them a popular choice for those watching their saturated fat intake. They are also rich in protein, crucial for building and repairing our body tissues.
The beauty of chicken sausages lies in their diverse flavors, appealing to all taste buds. Whether you prefer mild and herby or spicy and smoky, there's a chicken sausage variation to suit everyone's culinary preferences.
One remarkable thing about chicken sausages is their versatility in cooking. You can grill, pan-fry, or cook them in the oven or air fryer. Their pre-cooked options make them super convenient to use in various recipes, saving time and making your cooking experiences easier.
For those with specific dietary needs, chicken sausages offer options like gluten-free, keto-friendly, and low-carb varieties. This flexibility makes them an ideal choice for different lifestyles and tastes.
Whether you enjoy them on a bun, mix them in pasta, toss them with veggies, or add them to hearty stews, chicken sausages add a delightful touch to any meal. If you're searching for a flavorful, lean, and protein-packed alternative to traditional sausages, give chicken sausages a try, and take your cooking to a whole new level!
Tips For Perfectly Cooked Chicken Sausages In The Oven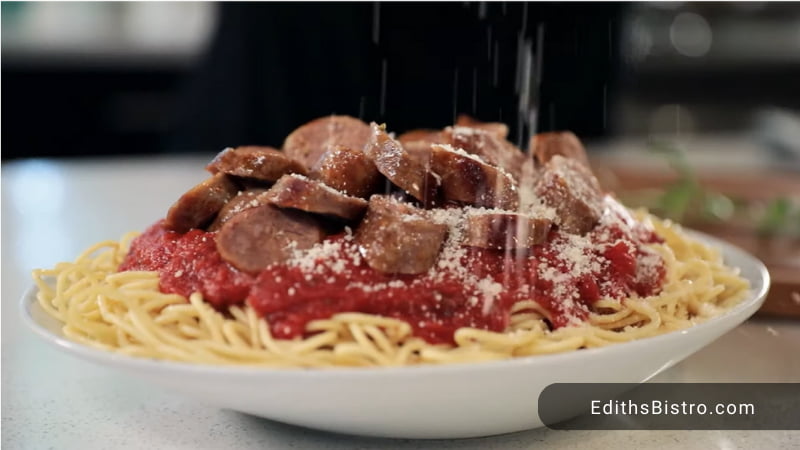 Cooking chicken sausages in the oven can be super easy when you know the right tricks. Whether you're an experienced chef or new to the kitchen, these straightforward guidelines will ensure your chicken sausages turn out perfect and delicious every single time:
Preheat the oven
Always heat up your oven before cooking the sausages. This way, they cook evenly and stay juicy throughout the process.
Choose the right temperature
Set your oven to 400 degrees Fahrenheit (200°C) for the best results. This temperature cooks the sausages thoroughly without drying them out.
Use parchment paper
Put parchment paper on your baking sheet before placing the sausages. It prevents sticking and makes cleaning up easy-peasy.
Give space
Make sure there's enough room between the sausages on the baking sheet. Crowding them can cause uneven cooking and not-so-perfect sausages.
Add veggies for yummy flavor
Add sliced onions, bell peppers, or any veggies you like to the baking sheet. They not only add taste but also make the sausages look colorful and healthy.
Drizzle with olive oil
Before putting the baking sheet in the oven, drizzle a tablespoon of olive oil over the sausages and veggies. It keeps them moist and gives a tasty golden-brown color.
Keep an eye on cooking time
Watch the sausages closely while they bake. Cooking time might change depending on sausage thickness and your oven's power. Around 15 minutes should be good, but flip them halfway for even cooking.
Check the temperature
Use a meat thermometer to check the sausages' inside temperature. They should reach a safe 165 degrees Fahrenheit (74 degrees Celsius) to be fully cooked.
Let them rest
When the sausages are ready, take them out of the oven and let them rest for a bit. This helps the juices spread evenly, giving you tender and tasty sausages.
Cooking chicken sausages in the oven ensures the best flavour for the dish, but you can refer to other cooking tips for them, such as cooking chicken sausages in the air fryer to diversify your meals better.
How Should We Store And Reheat Chicken Sausage?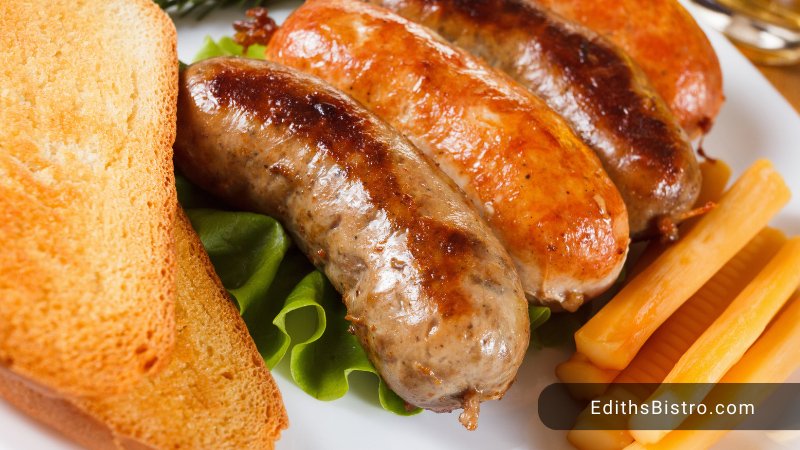 To keep your chicken sausages tasty and fresh, it's crucial to store and reheat them correctly. Whether you have some leftovers or want to plan ahead, follow these simple tips for the best outcome:
Storage:
To maintain freshness, put the chicken sausages in an airtight container or resealable plastic bag.
Keep them in the refrigerator and try to consume them within 3-4 days.
For longer storage, freeze them to enjoy later, up to 3 months.
Reheating:
When it's time to reheat your chicken sausages, you have two easy methods to choose from.
For pre-cooked sausages, just microwave them for 1-2 minutes until they're warm and ready to eat.
If you have raw or frozen sausages, try the stovetop method. Cook them in a skillet over medium heat for about 6 minutes, or bake in the oven at 400 degrees Fahrenheit for 15 minutes.
Always make sure the internal temperature reaches 165 degrees Fahrenheit (74 degrees Celsius) before serving for a safe and delicious meal.
By following these simple steps, you can keep your chicken sausages flavorful and enjoy them whenever you like!
Video About How To Cook Chicken Sausage In Oven
FAQs
How long to cook raw chicken sausage in oven?
Typically, it takes about 20-25 minutes to cook raw chicken sausage in the oven at 400 degrees Fahrenheit (200°C). Make sure the inside temperature reaches 165 degrees Fahrenheit (74 degrees Celsius) before serving to ensure it's fully cooked and safe to eat.
What temp to cook chicken sausage in oven?
The best temperature for cooking chicken sausage in the oven is 400 degrees Fahrenheit (200°C). This heat ensures the sausages cook evenly and result in a delightful taste.
How long to cook sausage in oven at 375?
If you like cooking sausage at 375 degrees Fahrenheit (190°C), you'll need a bit more time. It will take around 25-30 minutes to make sure they are fully cooked with an internal temperature of 165 degrees Fahrenheit (74 degrees Celsius).
Is it better to cook sausages in the oven?
Baking sausages in the oven is a widely favored and effective technique. It ensures the sausages cook evenly, minimizes messy splatters, and yields deliciously crispy exteriors.
Do you need foil to cook sausages in the oven?
Using foil is not necessary, but it can make cleaning up easier and prevent the sausages from sticking. If you prefer, you can line your baking sheet with foil before placing the sausages to make things more convenient.
How do you keep sausages from drying out in the oven?
To keep sausages from drying out, you can try these simple techniques: before baking, coat them with olive oil or place sliced veggies on the baking sheet for added moisture. Make sure the oven is preheated, and avoid overcooking to maintain their juiciness.
References
Welcome to Edith's French Bistro, an enchanting, high-end French culinary haven located in Plano, Richardson and Allen. Setting itself apart, this restaurant boasts a wide array of artisanal desserts, custom-crafted cakes, a blend of sweet and savory crepes, and an elegant high tea service. Furthermore, it serves invigorating beverages, delicious lunch and dinner main courses, and a delectable weekend brunch. To top it off, they also offer breakfast options throughout the day.
To augment your culinary experience, we've introduced a blog – a rich repository of culinary wisdom designed to inspire and guide individuals on their cooking journey. It's a treasure trove of knowledge spanning from the basics of cooking to more complex and advanced techniques. Whether you are a novice just beginning to explore the culinary landscape or an accomplished chef seeking new inspiration, you'll discover practical, beneficial advice that aligns with your culinary aspirations.