Corned beef, a flavorful and hearty dish, often finds its way to the dinner table. But figuring out how much to prepare for each person can be puzzling. Whether you're planning a family meal or a gathering with friends, let's check the answer to how much corned beef per person and a good recipe included.
How Much Corned Beef Per Person?
When serving corned beef, you'll want approximately 3/4 to 1 pound of cooked meat per person. Corned beef, sometimes referred to as salt beef, is a flavorful dish made from beef brisket that has been cured in a brine solution. When preparing corned beef, you typically start with a brisket that weighs around 3-4 pounds. This quantity of corned beef can serve about 4-5 people.
How Much Cooked Corned Beef Per Person?
How much corned beef and cabbage per person?
If you're making corned beef and cabbage, a base estimate of 3/4 pounds per person is enough. Corned beef is rich and flavorful, and when paired with cabbage and other vegetables, it can be quite filling. You can always adjust the quantity based on your guests. Remember that cooking corned beef with cabbage and other vegetables can create a satisfying meal that's perfect for gatherings or special occasions.
You should ensure is corned beef gluten-free if you have gluten sensitivity or celiac disease.
How much sliced corned beef per person?
If you're serving sliced corned beef as part of a larger meal, like a buffet or a deli platter, you might plan for 2-3 ounces per person, as it's just one component of the meal. Here are some recommendations for a gathering meal:
Reuben sandwich: It combines sliced corned beef with Swiss cheese, sauerkraut, and Russian dressing, all grilled between slices of rye bread.
Corned beef hash: Sliced corned beef, diced potatoes, and onions cooked together in a skillet. It's often served with fried eggs on top for breakfast or brunch.
Corned beef and cabbage: A traditional Irish dish where sliced corned beef is simmered with cabbage, potatoes, carrots, and spices.
Corned beef and Swiss sliders: Mini sandwiches made with sliced corned beef, Swiss cheese, and a touch of mustard or Thousand Island dressing on slider rolls.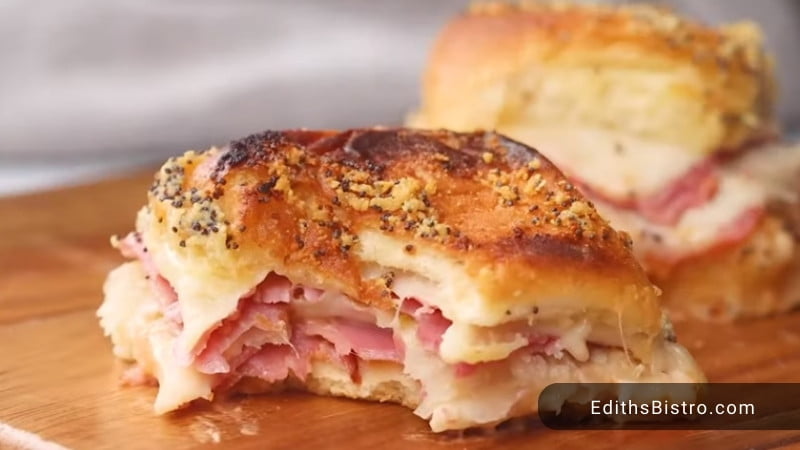 How To Calculate How Much Corned Beef Per Person?
To calculate, consider the number of guests and the total weight of your corned beef. For example, if you have 10 guests and a 7.5-pound corned beef, you'd divide the total weight by the number of guests. In this case, each person would get about 12 ounces.
Keep in mind that corned beef is rich and flavorful, so slightly less per person might suffice if you have a variety of other dishes on your menu. It can be served with potatoes, carrots, cabbage, pickles, etc. In particular, we can cook corned beef and cabbage in slow cooker.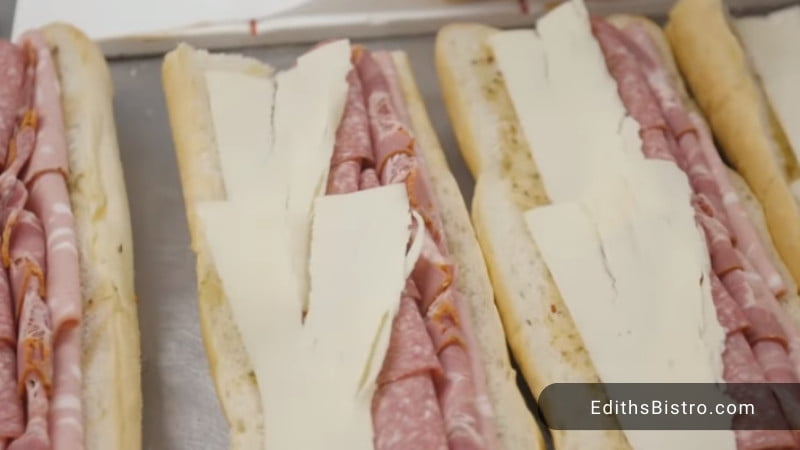 How Much Corned Beef Person For Sandwiches?
If you're making corned beef sandwiches, it's good to plan for 4 to 6 ounces of cooked corned beef per person. When making sandwiches, it's essential to consider the size and type of bread you're using. Additionally, you can add your choice of condiments and toppings, such as mustard, pickles, coleslaw, or sauerkraut, to enhance the flavor and texture of your corned beef sandwiches.
There are numerous restaurants across the USA that serve delicious corned beef sandwiches. Some well-known places include Katz's Delicatessen in New York City, Primanti Bros. in Pittsburgh, etc.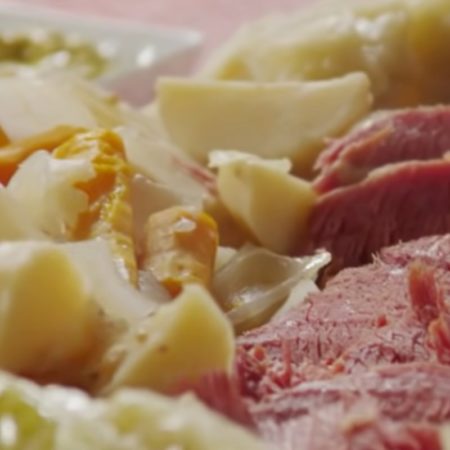 Corn Beef Recipe
Indulge in the rich and hearty flavors of slow-cooked corned beef and vegetables. This comforting dish features succulent corned beef infused with aromatic pickling spices, accompanied by tender carrots, onions, and baby potatoes.
Ingredients
3

lbs.

corned beef

1

tablespoon

pickling spice

10

carrots (peeled and halved)

2

onions

12

baby potatoes

12

oz.

water

10

sprigs fresh thyme

1

small head of cabbage (quartered)
Instructions
In a large slow cooker, place the corned beef at the bottom without rinsing it, allowing all the flavorful juices from the packaging to remain. Sprinkle pickling spices over the corned beef.

Layer the peeled carrots and onions over the corned beef, followed by the baby potatoes. Arrange sprigs of thyme around the slow cooker, then pour the water over the ingredients.

Set the slow cooker to LOW and cook for 8 hours.

After 8 hours, carefully rearrange the vegetables to create space for the cabbage.

Submerge the cabbage as much as possible in the cooking liquid, then cover the crock pot and switch it to HIGH for an additional 1 hour.

Slice the corned beef against the grain, distribute the vegetables evenly on plates, and serve with a dollop of grainy mustard.
FAQs
How much corned beef for 10 adults?
For a group of 10 adults, you'll generally need around 7.5 to 10 pounds of corned beef, depending on their appetite and whether you want leftovers. Remember that cooking can cause some shrinkage, so having a little extra is often a good idea.
How much corned beef for 12 adults?
For a group of 12 adults, you'll need 9 to 12 pounds of corned beef. A general guideline is to calculate about 3/4 to 1 pound of corned beef per person, which should provide a satisfying portion. 
How much corned beef for 8 adults?
To serve 8 adults, you'll typically need around 6 to 8 pounds of corned beef. This estimate allows for a generous portion per person, and it's always a good idea to have a bit extra in case appetites vary. 
Can you freeze leftover Corned Beef?
Yes, you can freeze corned beef for later use. Let it cool, place it in airtight containers or freezer bags, and store it in the freezer. When you're ready to consume it, thaw the corned beef in the refrigerator and then reheat it to your preference. Properly stored, it can maintain good quality in the freezer for a couple of months.
References:
Welcome to Edith's French Bistro, an enchanting, high-end French culinary haven located in Plano, Richardson and Allen. Setting itself apart, this restaurant boasts a wide array of artisanal desserts, custom-crafted cakes, a blend of sweet and savory crepes, and an elegant high tea service. Furthermore, it serves invigorating beverages, delicious lunch and dinner main courses, and a delectable weekend brunch. To top it off, they also offer breakfast options throughout the day.
To augment your culinary experience, we've introduced a blog – a rich repository of culinary wisdom designed to inspire and guide individuals on their cooking journey. It's a treasure trove of knowledge spanning from the basics of cooking to more complex and advanced techniques. Whether you are a novice just beginning to explore the culinary landscape or an accomplished chef seeking new inspiration, you'll discover practical, beneficial advice that aligns with your culinary aspirations.