Are you looking to bake a perfect plate of chicken drumsticks? If you've been wondering, "How long do to bake drumsticks at 400 degrees Fahrenheit?" or even at 350 degrees, you've come to the right post.
Simply said, if you bake drumsticks at 400 degrees Fahrenheit in the oven, it will take about 35 to 45 minutes to be fully cooked. In case of cooking them in air fryer, your chicken drumsticks will need from 20 to 25 minutes to reach perfect condition. However, the cooking time will depend on various factors.
Read on to get thorough instructions on how to cook drumsticks to perfection and helpful advice on avoiding typical mistakes and how to store and reheat them.
How Long To Bake Drumsticks At 400 Degrees Fahrenheit In The Oven?
If you're aiming for succulent chicken drumsticks with delightfully crisp skin, baking at 400 degrees Fahrenheit is your ticket to culinary success. This temperature allows for the perfect balance between a well-cooked interior and an appealingly crunchy exterior.
Generally, chicken drumsticks will need about 35-45 minutes in the oven when baked at 400 degrees. At 375 degrees, you will need to cook your thighs a bit longer. But remember, these timings can fluctuate based on the size of your drumsticks and the precise temperature calibration of your oven.
How long to cook drumsticks at 400 in air fryer?
The typical cooking time for drumsticks at 400 in air fryer is from 20 to 25 minutes. However, take into account the size of the drumsticks as well as the model of your air fryer, as cooking times may slightly differ. You should also preheat the air fryer for 5 minutes before putting your drumsticks in and arrange your chicken in a single layer for even airflow and browning.
How long to bake chicken drumsticks at 350 Degrees Fahrenheit?
You should expect a little longer cooking time if you decide to bake your chicken drumsticks at a slightly lower temperature, such as 350 degrees Fahrenheit. At this lower temperature, chicken drumsticks will typically need to bake for 45 to 50 minutes. Keep in mind that depending on the size of the drumsticks and the efficiency of your oven, this time may be different.
What Exactly Is Chicken Drumsticks?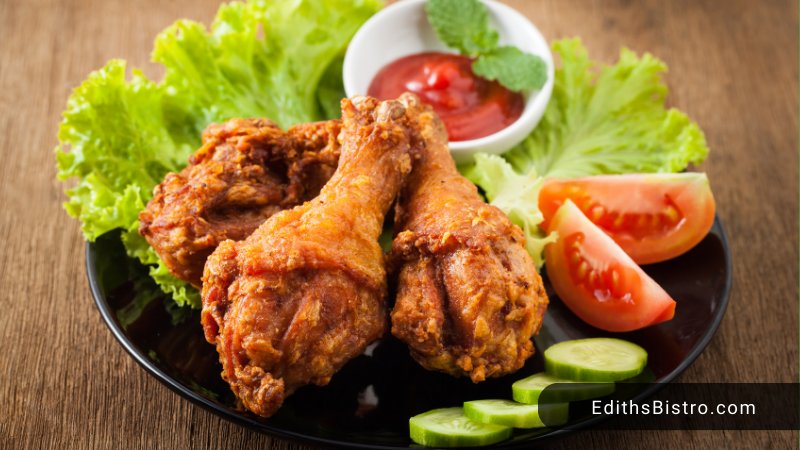 Chicken drumsticks, a common ingredient in numerous global cuisines, correspond to the lower section of a chicken's leg. More specifically, it's the part nestled between the chicken's two leg joints, often likened to the 'calf' region. Drumsticks are universally adored for their succulent, robust flavor and the convenient bone 'handle' that makes them an easy-to-eat delight. Regardless of the cooking method—whether baked, fried, grilled, or stewed—drumsticks never fail to impress, delivering a mouthwatering meal filled with juicy and tender meat.
How many types of chicken drumsticks?
There are two primary types of chicken drumsticks to consider: bone-in and boneless. Depending on your choices and demands, each variety will offers different benefits.
Bone-in chicken drumsticks take a little longer to cook, but they reward you with an incomparable depth of flavor. During the cooking process, the bone adds richness to the meat, making the dish more flavorful and gratifying.
On the other hand, if your time is of the essence, boneless drumsticks are a great option. These simple, easy-to-eat pieces cook faster, making them ideal for quick and tasty dinners without losing flavor.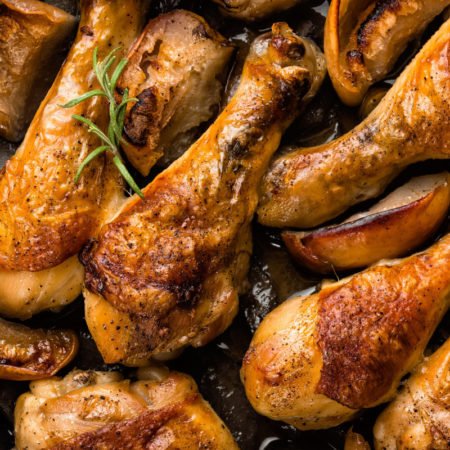 Crispy Baked Chicken Drumsticks At 400 Degrees Fahrenheit
Learn how to bake chicken drumsticks to perfection with this easy and delicious recipe. Achieve a crispy golden skin and tender, juicy meat at 400 degrees Fahrenheit. This step-by-step guide will have you serving up mouthwatering drumsticks that everyone will love.
Equipment
1 Baking sheet

Parchment paper or aluminum foil

1 Mixing bowl

1 Tongs

1 Meat thermometer
Ingredients
8

chicken drumsticks

2

tablespoons

olive oil

1

teaspoon

salt

½

teaspoon

black pepper

1

teaspoon

garlic powder

1

teaspoon

onion powder

1

teaspoon

paprika

½

teaspoon

dried thyme

optional
Instructions
Preheat your oven to 400 degrees Fahrenheit (200 degrees Celsius).

Pat the chicken drumsticks dry with paper towels to ensure crispiness.

In a mixing bowl, combine olive oil, salt, black pepper, garlic powder, onion powder, paprika, and dried thyme (if using).

Add the chicken drumsticks to the bowl and toss them thoroughly to coat with the seasoning mixture.

Line a baking sheet with parchment paper or aluminum foil for easy cleanup.

Arrange the seasoned drumsticks on the baking sheet, leaving space between each piece for even cooking.

Bake the drumsticks in the preheated oven for 35-45 minutes or until the internal temperature reaches 165 degrees Fahrenheit (74 degrees Celsius).

Use a meat thermometer to check the doneness. The chicken should be fully cooked and tender.

Once done, remove the drumsticks from the oven and let them rest for a few minutes to allow the juices to redistribute.

Serve hot and enjoy your crispy baked chicken drumsticks!
Notes
Nutritional values are approximate and may vary based on ingredients used and serving size.
How can we know if chicken drumsticks is done cooking?
To ensure your chicken drumsticks are cooked to perfection, there are several reliable methods to determine their doneness. The most dependable approach is to use a meat thermometer. Insert the thermometer into the thickest part of the drumstick, making sure it doesn't touch the bone. A minimum internal temperature of 165 degrees Fahrenheit (74 degrees Celsius) is recommended for safe consumption. If the temperature hasn't reached this threshold, continue cooking until it does.
Common Mistakes You Should Know To Bake Chicken Drumsticks At 400 Degrees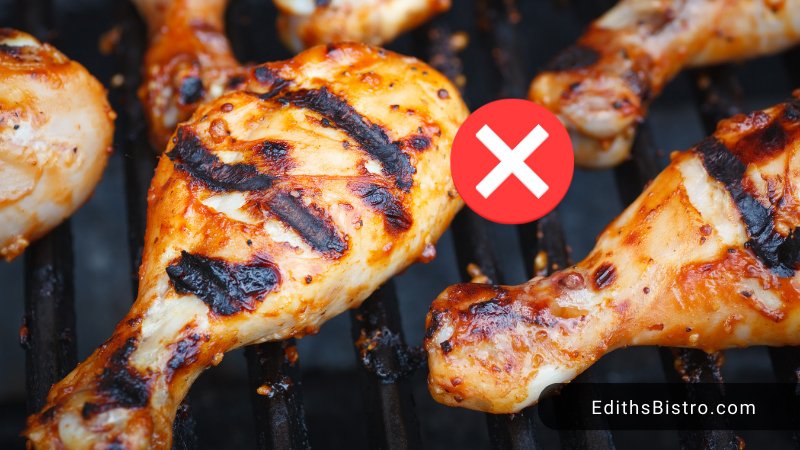 Skip preheating: The first error to avoid is not preheating your oven. Always remember to set your oven's temperature properly before putting the chicken inside. By doing this, you can ensure even cooking and avoid over- or undercooking the chicken.
Overcrowding the baking sheet: Overcrowding the baking sheet is another typical mistake. To achieve consistent cooking, let enough space between each drumstick. Overcrowding may result in chicken that is cooked unevenly, with the outside being overcooked and the center of the meat being raw.
Not using a meat thermometer: A meat thermometer is very important. To avoid causing the meat to dry out and the juices to leak out, avoid the temptation to cut into the chicken to see whether it is done. Instead, check the internal temperature of the chicken with a meat thermometer to make sure the chicken's internal temperature reaches 165°F (74°C) before removing it from the oven.
Not letting the chicken rest: After cooking, give the chicken some time to rest before slicing it. Allowing the liquids to re-distribute throughout the resting process may prevent the meat's juices from dripping out when you cut into it.
How To Store And Reheat Chicken Drumsticks?
Drumsticks of chicken must be kept carefully to preserve their flavor and integrity. The following instructions will help you preserve and reheat any leftover chicken drumsticks:
Store chicken drumsticks:
Before storing the cooked drumsticks, let them cool to room temperature.
The drumsticks should be placed in an airtight container or carefully wrapped in plastic wrap.
Store the drumsticks for up to four days in the fridge.
You may freeze them if you need to keep them for a longer time. Each drumstick should be separately wrapped in plastic wrap before being placed in a freezer bag and kept frozen for up to three months.
Reheat chicken drumsticks:
Before reheating, let frozen drumsticks thaw overnight in the fridge.
Consider warming the drumsticks in the oven to maintain moisture. Place the drumsticks on a baking sheet and preheat the oven to 350 degrees Fahrenheit (175 degrees Celsius). They should be heated for 15 to 20 minutes or until well warmed.
For faster warming, you may also use a microwave. The drumsticks should be placed on a microwave-safe plate, covered with a microwave-safe lid or a wet paper towel to avoid drying out, and heated for 30-second intervals until well heated.
Regardless of the reheating technique, make sure that the internal temperature has reached 165°f (74 degrees Celsius) before serving.
Videos About How Long To Bake Drumsticks At 400 Degrees Fahrenheit
FAQs
Should we bake chicken legs at 350 or 400?
Drumsticks can be cooked at any temperature, depending on your preferences. Cooking drumsticks at a lower temperature may take a little longer but may produce more tender meat, while a higher temperature will cook the drumsticks faster and create crispier skin.
How long do drumsticks take to cook at 425?
It takes around 25 – 30 minutes.
What is the best way to cook chicken drumsticks?
It is possible to bake, grill, fry, or even slow-cook chicken drumsticks. The best method is determined by preferences and the expected results.
Do you flip chicken drumsticks when baking?
It is advised to flip chicken drumsticks once while baking to achieve equal browning and cooking on both sides.
Can I bake frozen chicken drumsticks?
Yes, chicken drumsticks that are frozen can be baked. However, they will need more time to cook than thawed drumsticks.
Should I bake chicken drumsticks covered or uncovered?
It is recommended to cook chicken drumsticks uncovered for crispy skin. However, covering them with foil for a portion of the cooking process will assist in preserving moisture if you like a more tender result.
Do you have to wash chicken drumsticks before cooking?
It is typically advised to avoid washing chicken drumsticks before cooking to reduce the danger of bacterial contamination.
How to choose chicken drumsticks?
When choosing chicken drumsticks, pick those with plump shapes, undamaged skin, and no obvious bruises or discoloration. Additionally, for better flavor and quality, think about selecting organic or free-range selections.
What to serve with chicken drumsticks?
Drumsticks of chicken go nicely with a variety of side dishes. Roasted vegetables, mashed potatoes, rice pilaf, coleslaw, cornbread, and a fresh green salad are some of the typical choices.
References
Welcome to Edith's French Bistro, an enchanting, high-end French culinary haven located in Plano, Richardson and Allen. Setting itself apart, this restaurant boasts a wide array of artisanal desserts, custom-crafted cakes, a blend of sweet and savory crepes, and an elegant high tea service. Furthermore, it serves invigorating beverages, delicious lunch and dinner main courses, and a delectable weekend brunch. To top it off, they also offer breakfast options throughout the day.
To augment your culinary experience, we've introduced a blog – a rich repository of culinary wisdom designed to inspire and guide individuals on their cooking journey. It's a treasure trove of knowledge spanning from the basics of cooking to more complex and advanced techniques. Whether you are a novice just beginning to explore the culinary landscape or an accomplished chef seeking new inspiration, you'll discover practical, beneficial advice that aligns with your culinary aspirations.