Do you ever wonder what to serve with orange chicken? From classic options like rice to more unique choices like zucchini noodles, there are plenty of delicious pairings to try. Let's dive into side dishes that will make your orange chicken or mandarin orange chicken taste even more fantastic.
What To Serve With Orange Chicken?
The best side dishes to serve with orange chicken are jasmine rice, homemade Chinese egg noodles, and fried wonton. If you want to add some vegetables into the meal, you can serve your orange chicken atop of zucchini noodles or steamed bok choy. You can keep the meal authentically Chinese with some hot and sour soup or chow mein. If you're looking for a healthier option, serving orange chicken with brown rice or quinoa. These whole grains offer more fiber and nutrients than white rice.
What To Serve With Mandarin Orange Chicken?
Try plain steamed white rice to soak up the flavorful sauce with mandarin orange chicken. The soft rice and crispy chicken also create a nice combination. If you want something refreshing, a crunchy raw vegetable salad is good. Chicken salad is also good. But you should know how much chicken salad per person if you make it at home.
For those who don't know, mandarin orange chicken is a popular dish in Chinese cuisine. It consists of battered and fried pieces of chicken that are coated with a sweet orange-flavored sauce. The sauce is made using ingredients like orange juice, soy sauce, ginger, garlic, and sugar.
What To Serve With Trader Joe's Orange Chicken?
You can serve it with steamed white rice or pair it with fresh vegetables like broccoli or snap peas. For a creative twist, consider using the orange chicken as an ingredient to make dishes like Orange Chicken Fried Rice, where you can stir-fry the orange chicken with cooked rice, mixed vegetables, and scrambled eggs. Another option is an Orange Chicken Salad, tossing the cooked chicken with crisp lettuce, mandarin orange segments, sliced almonds, and a tangy vinaigrette.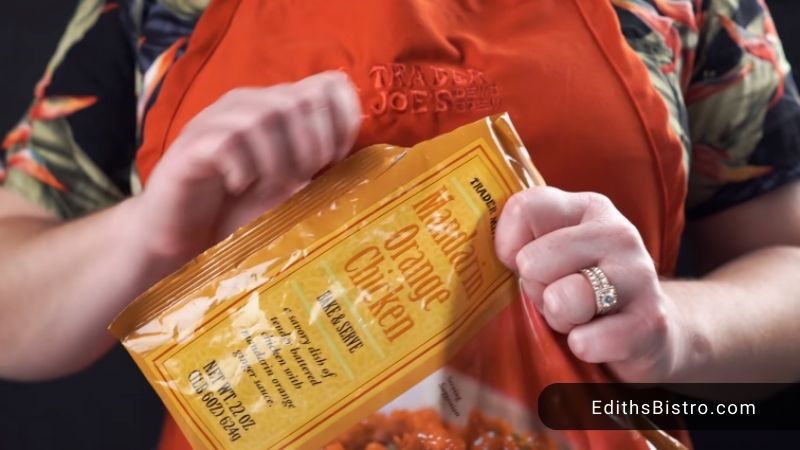 Air-frying is recommended for those seeking a crispy texture that remains intact even when coated with the flavorful orange sauce. This cooking method ensures that the chicken remains hot and crispy, preserving its delectable qualities. Serving the orange chicken as an appetizer with toothpicks is the best, making it an option for gatherings or parties.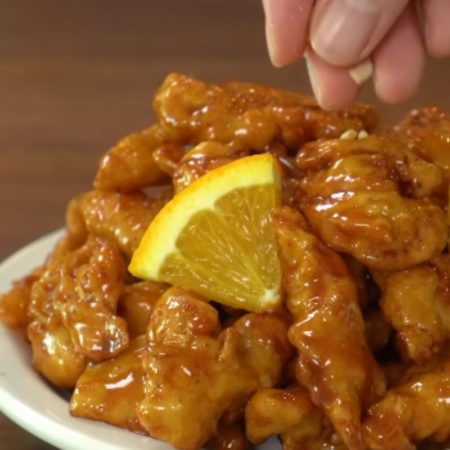 How To Cook Orange Chicken?
It's the perfect comfort food that satisfies both kids and adults alike.
Ingredients
4

Boneless skinless chicken breasts (cut into bite-size pieces)

3

Eggs (whisked)

1/3

cup

Cornstarch

1/3

cup

Flour

Salt

Oil for frying

1

cup

Orange juice

1/2

cup

Sugar

2

tablespoons

Rice vinegar or white vinegar

2

tablespoons

Soy sauce (use tamari for a gluten-free dish)

1/4

teaspoon

Ginger

1/4

teaspoon

Garlic powder or 2 garlic cloves (finely diced)

1/2

teaspoon

Red chili flakes

Orange zest from 1 orange

1

tablespoon

Cornstarch

Green onions

Orange zest
Instructions
In a medium pot, combine orange juice, sugar, vinegar, soy sauce, ginger, garlic, and red chili flakes. Heat the mixture for 3 minutes.

In a small bowl, whisk 1 tablespoon of cornstarch with 2 tablespoons of water to create a paste. Add this paste to the orange sauce and whisk together. Continue cooking for about 5 minutes until the sauce thickens. Once thickened, remove from heat and add orange zest.

Mix flour, cornstarch, and a pinch of salt in a shallow dish or pie plate.

Whisk eggs in another shallow dish.

Dip chicken pieces first in the egg mixture, then in the flour mixture. Place coated chicken on a plate.

Heat about 2-3 inches of oil in a heavy-bottomed pot over medium-high heat. Use a thermometer to monitor the temperature; it should reach 350 degrees Fahrenheit.

In batches, fry the coated chicken pieces for 2-3 minutes, turning often until they turn golden brown. Place the cooked chicken on a plate lined with paper towels. Repeat until all chicken is cooked.

Toss the fried chicken with the prepared orange sauce. You can set aside some sauce to serve with rice.

Serve the orange chicken with rice, drizzling some reserved sauce over it if desired.

Garnish the dish with sliced green onions and additional orange zest for extra flavor and visual appeal.
FAQs
What kind of rice to serve with orange chicken?
The ideal rice to serve with orange chicken is jasmine rice. Its fragrant aroma and slightly sticky texture complement the sweet and tangy flavors of the dish, creating a balance that enhances the dining experience.
What vegetables to serve with orange chicken?
Some popular options include broccoli, bell peppers, snap peas, green beans, and carrots. These vegetables add both color and a fresh crunch that complements the rich flavors of the dish.
What to serve with orange chicken breast?
When serving orange chicken breast, you can use it with steamed white rice to balance out the flavors. You can also add a side of stir-fried vegetables like broccoli, bell peppers, and carrots for a nutritious and well-rounded meal. Additionally, a light cucumber salad or a refreshing fruit salad can provide a contrasting texture and taste.
References:
Welcome to Edith's French Bistro, an enchanting, high-end French culinary haven located in Plano, Richardson and Allen. Setting itself apart, this restaurant boasts a wide array of artisanal desserts, custom-crafted cakes, a blend of sweet and savory crepes, and an elegant high tea service. Furthermore, it serves invigorating beverages, delicious lunch and dinner main courses, and a delectable weekend brunch. To top it off, they also offer breakfast options throughout the day.
To augment your culinary experience, we've introduced a blog – a rich repository of culinary wisdom designed to inspire and guide individuals on their cooking journey. It's a treasure trove of knowledge spanning from the basics of cooking to more complex and advanced techniques. Whether you are a novice just beginning to explore the culinary landscape or an accomplished chef seeking new inspiration, you'll discover practical, beneficial advice that aligns with your culinary aspirations.