There are 7 classic pairings when asking about what to serve with corned beef: vegetables in roasted form, corn casserole as an appetizer, the Irish soda bread as classic table breading, potato – always best as mashed, Sauerkraut to cut back on the salted beef, and if you fancy sweet thing – Irish oatmeal cake all the way. Corned beef can also be great in a hot cabbage soup. Want more suggestions? Here're 27+ of them:
Vegetables: Oven Roasted Vegetables, Parmesan Roasted Green Beans, Sautéed Asparagus, Roasted Brussels Sprouts.
Appetizer: Corn Casserole, Reuben Egg Rolls, Pretzel Ring Beer Cheese Dip, Cabbage Wrap Brats, Mini Shepherd's Pies
Bread: Irish Soda Bread,Brioche, Beer Bread
Potato: Roasted Garlic Mashed Potatoes, Irish Potato Nachos, Duchess Potatoes, Colcannon.
Salad: Sauerkraut, Arugula Salad, Kale Caesar Salad, Italian Radicchio Salad, Instant Pot Black Bean.
Soup: Cabbage Roll Soup, Corned Beef Hash Soup
Dessert: Irish Apple Cake & Vanilla Custard Sauce, Irish Oatmeal Cake & Caramel Pecan Frosting, Strawberry Lemon Blondies, Leprechaun Bait
What To Serve With Corned Beef – Vegetable Side Dish Suggestions
Oven Roasted Vegetables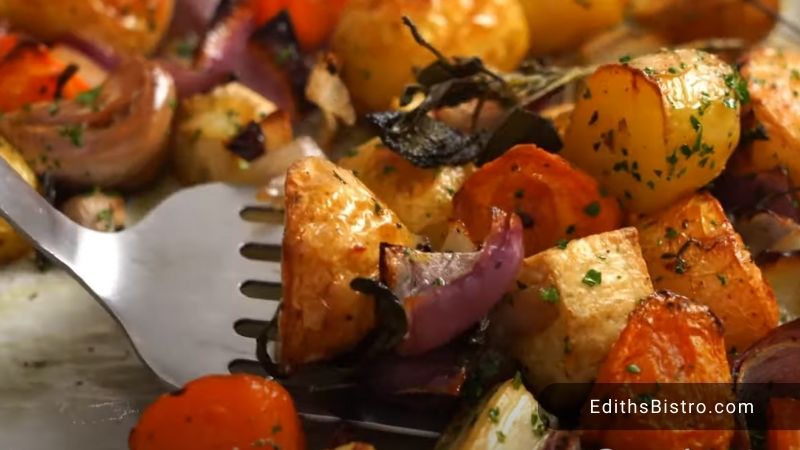 A colorful medley of vegetables, roasted to perfection, adds a nice balance of flavors to the rich corned beef. The caramelized veggies also provide a healthy crunch to excite you – such a perfect answer to the question of what to serve with corned beef.
You can learn the direct way to cook such a perfect oven-baked veggie dish in the video above!
Parmesan Roasted Green Beans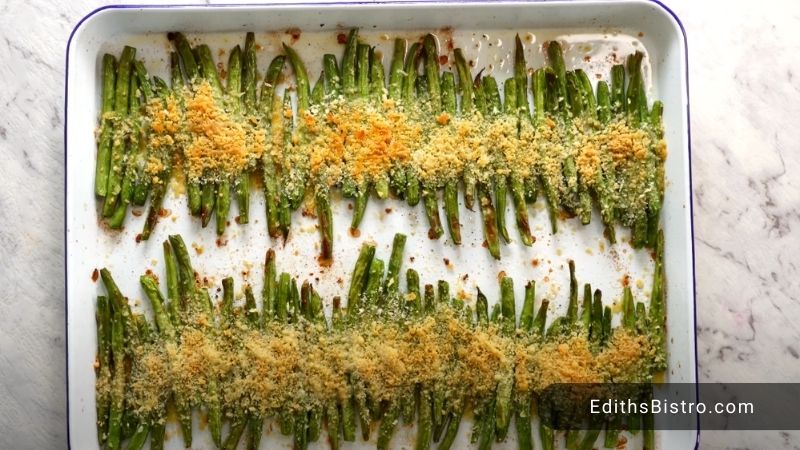 This easy roasted green bean recipe is full of flavor and only takes about 30 minutes to prepare. The parmesan cheese adds crispiness and savory notes to complement the lightly charred beans.
Corned beef is quite hearty, so you need something light yet flavorful to contrast it.
Sautéed Asparagus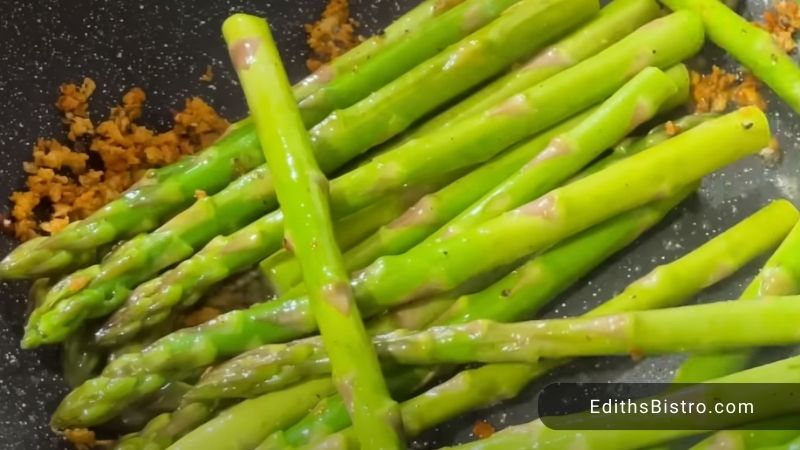 Fresh asparagus stalks are sautéed until they're just tender and bursting with a slightly sweet, earthy flavor. Their natural crunch and slight bitterness provide a refreshing contrast to the rich corned beef, enhancing the dish's overall depth of flavor.
And it takes under 15 minutes to prepare! Such a great and easy dish to make at home.
Roasted Brussels Sprouts
When roasted or sautéed, these miniature cabbages develop a slightly crispy exterior and a tender, sweet interior. Their inherent bitterness balances out the salty, rich taste of the corned beef, creating a well-rounded plate.
This fall classic dish is more than perfect for your dinner!
Top Appetizer Choices For Corned Beef – Classic & Fusion
Corn Casserole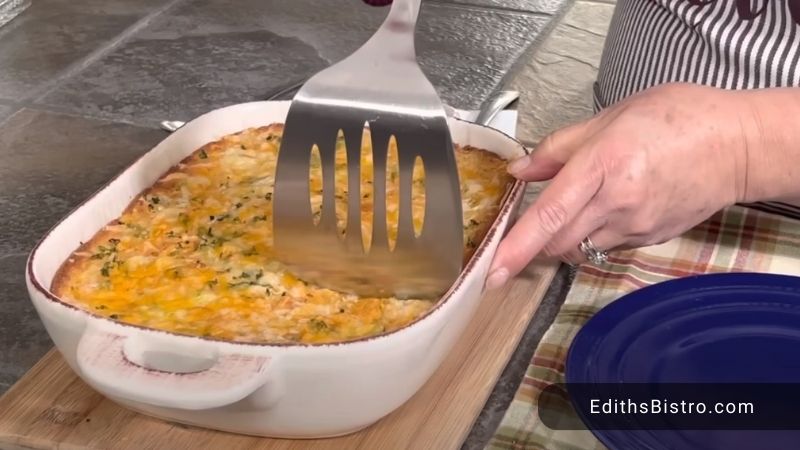 This dish is a comforting blend of corn, cream, and a hint of sweetness, baked until bubbly and golden. It's creamy, it's fresh, and: "It's corn! A big lump of knob. It has the juice. I can't imagine a more beautiful thing."
We all know why the lovely kid goes viral with his love for corn—because we're all like him!
Reuben Egg Rolls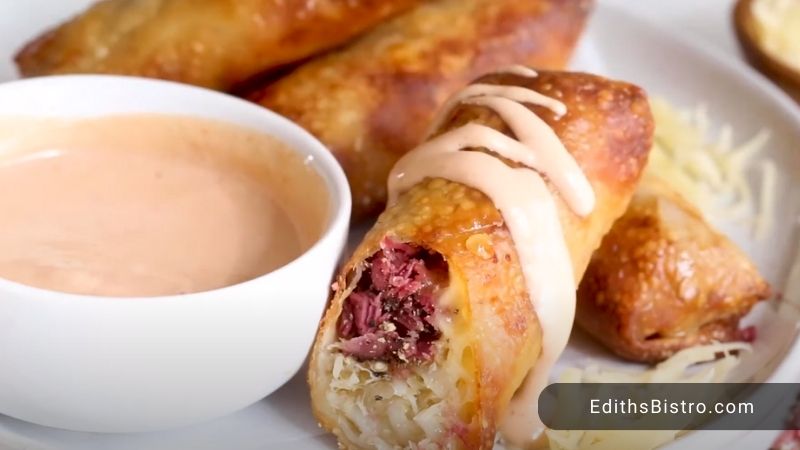 These are a creative twist on the classic Reuben sandwich, filled with corned beef, Swiss cheese, and sauerkraut, all wrapped in a crispy egg roll wrapper. They echo the flavors in the corned beef while adding a fun, crunchy element to your tastebud!
You can pair this with a simple spicy mayo sauce and serve right when piping hot.
Pretzel Ring Beer Cheese Dip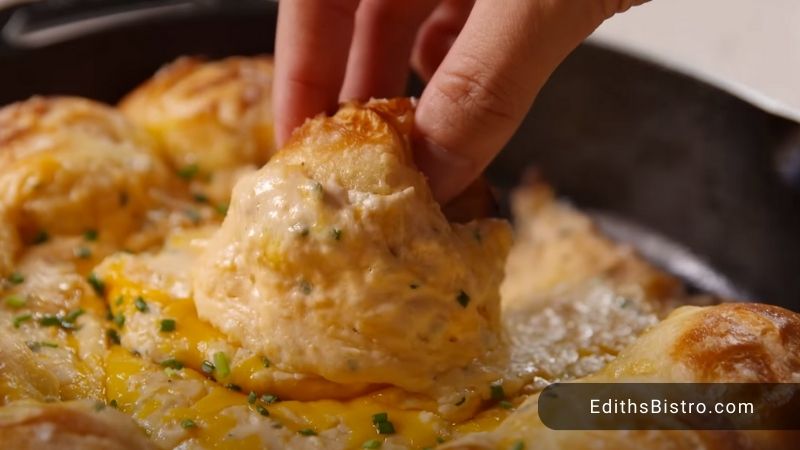 Dipping is always a crowd favorite at large gatherings. With soft pretzel bites encircling a bowl of tangy, creamy beer cheese – you have a winning dip for all ages. The pretzels' saltiness and the cheese dip's tang complement the corned beef, making for a hearty, indulgent meal.
Cabbage Wrap Brats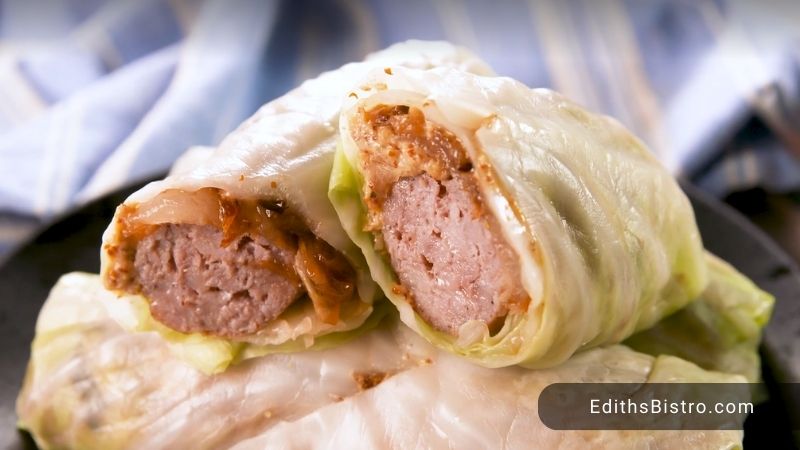 They are bratwurst sausages wrapped in crisp cabbage leaves, providing a refreshing, crunchy bite. What's not to love? The mild cabbage and rich sausage contrast with the salty corned beef, keeping the meal interesting and diverse in flavors.
You won't be able to stop at just one!
Read more: What To Serve With Beef Stroganoff? 29+ Delicious Side Dishes [With Pictures!]
Mini Shepherd's Pies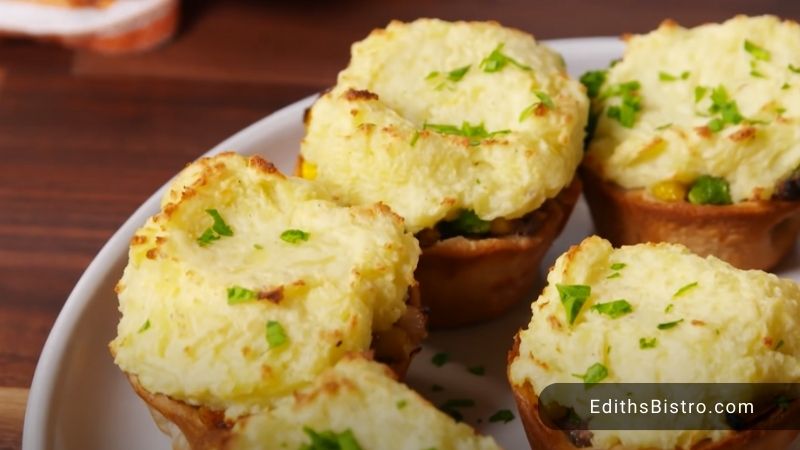 With no jelly beans! We don't want to create Rachel's beautiful Thanksgiving disaster here! These adorable, hearty pies are filled with meat and veggies and topped with creamy potatoes. They echo corned beef's comforting, savory qualities, creating a just too cozy meal to resist.
Top Breads To Serve With Corned Beef
Irish Soda Bread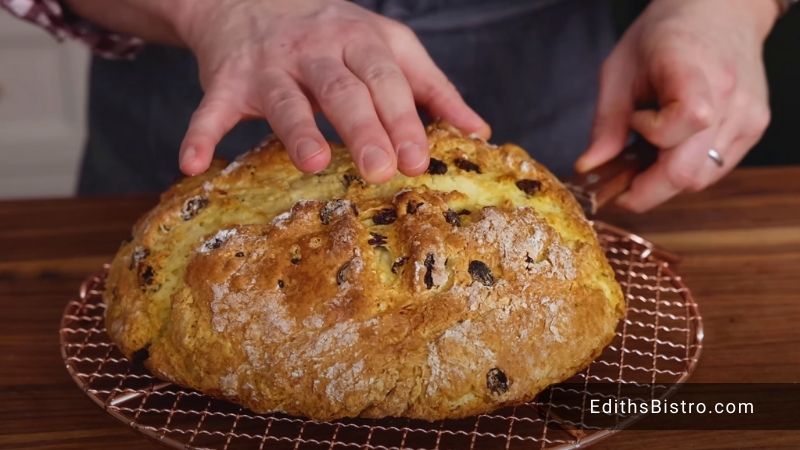 This dense, slightly sweet bread is the perfect sponge for corned beef juice. Every bite is a delightful mix of tangy and savory—a must-try for bread lovers everywhere! And Irish, which is on-brand.
Brioche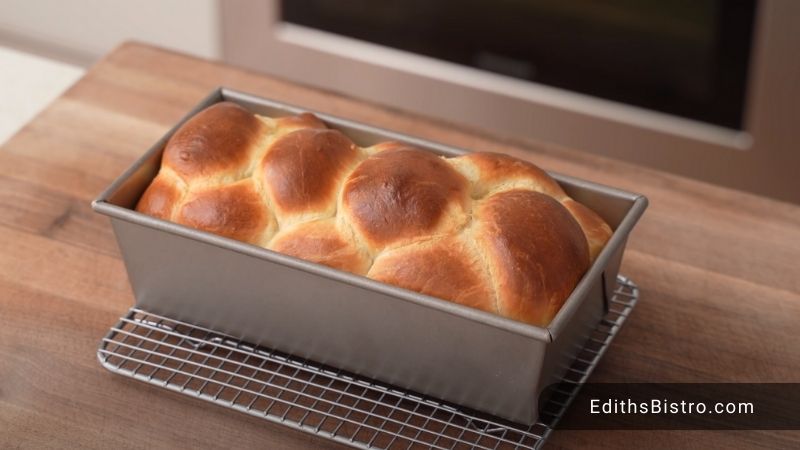 This soft, buttery French bread adds a touch of luxury to any meal. Its light sweetness is a dreamy match for savory corned beef. Your taste buds will thank you!
Beer Bread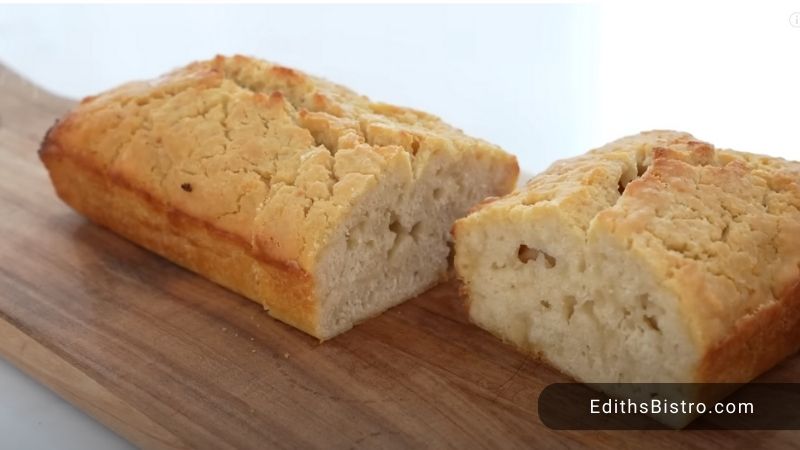 This hearty loaf is your soon-to-be favorite side dish! Infused with malty beer, it has a dense yet tender crumb and a slightly bitter taste that's just perfect with corned beef. The balance of savory and bitter flavors makes each bite a rollercoaster of yumminess.
Trust us, this beer bread is a game-changer; you'll want to make it again and again!
What To Serve With Corned Beef? Potato Edition!
Roasted Garlic Mashed Potatoes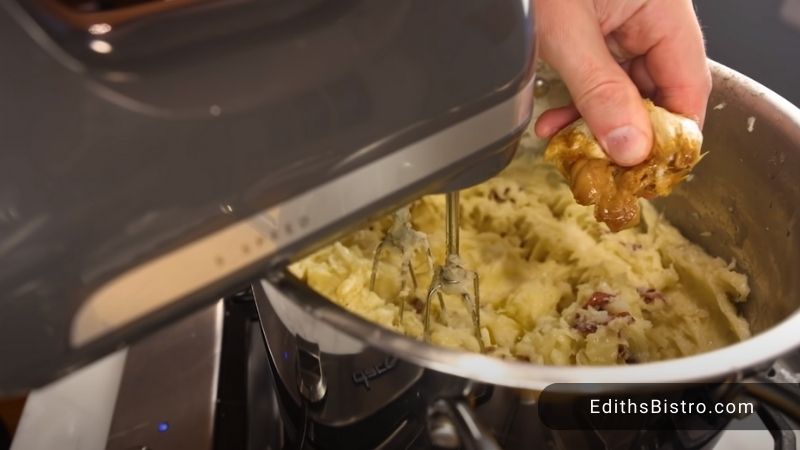 Picture this: velvety, creamy mashed potatoes infused with roasted garlic's sweet, mellow flavor. Sounds dreamy, right? This side dish is comfort food at its finest, and its smooth texture and subtle sweetness pair wonderfully with the saltiness of corned beef. One spoonful, and you'll be in food heaven!
Irish Potato Nachos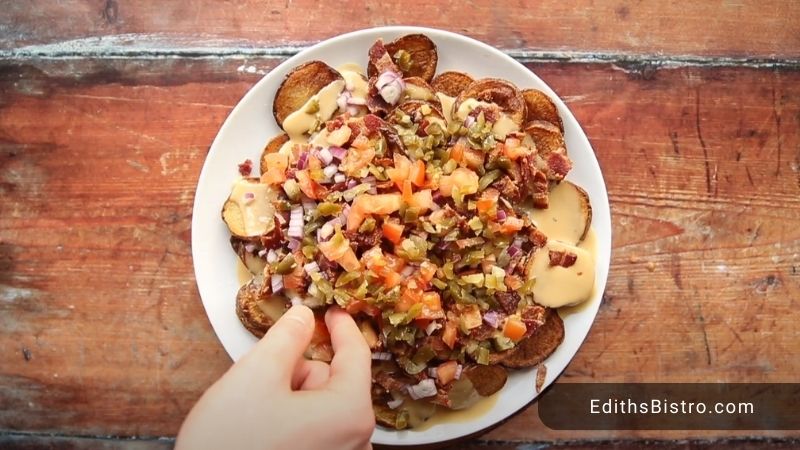 Who said nachos had to be made with tortilla chips? These Irish Potato Nachos are a fun and flavorful twist on the classic! Crispy potato slices serve as the base, loaded with cheese and spices, to create a side dish that's both hearty and spicy.
They're the perfect foil for corned beef's rich, savory flavors, providing a spicy kick that will keep your taste buds dancing. Get ready to dig in!
Duchess Potatoes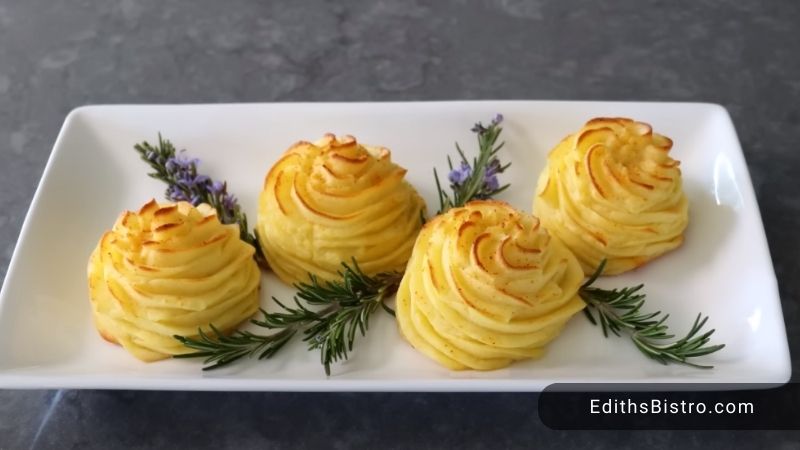 Looking for a side dish that's as elegant as it is delicious? Duchess Potatoes are your answer! These beautifully piped potatoes, baked to a golden perfection, are a feast for the eyes and the palate. The potatoes' fluffy interior and crisp exterior provide a delightful contrast to the tender corned beef.
Their mild flavor also makes them a great canvas for the robust flavors of the beef. With Duchess Potatoes, every meal feels like a special occasion!
Colcannon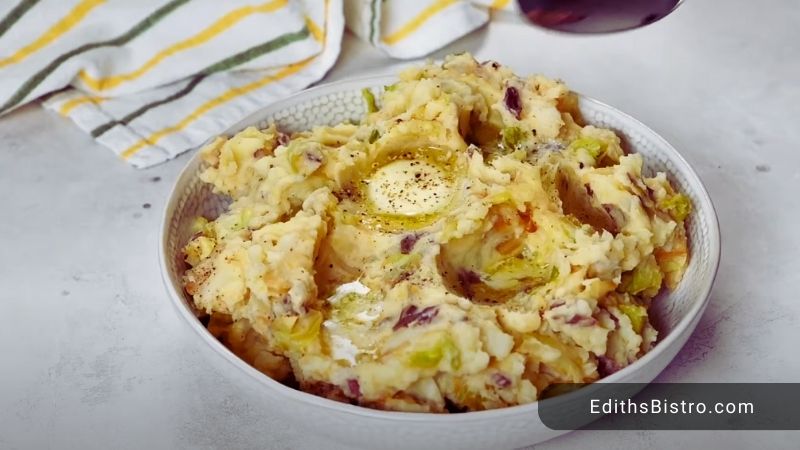 Hello, comfort food! Colcannon, a traditional Irish dish of mashed potatoes mixed with cabbage or kale, is a hearty side that's perfect with corned beef. Its creaminess and subtle sweetness balance out the savory, salty flavors of the corned beef, creating a satisfying harmony on your plate.
With one bite of this comforting Colcannon, you'll feel like you've been wrapped in a warm culinary hug!
Quick & Easy Salad For Corned Beef Side Dishes
Sauerkraut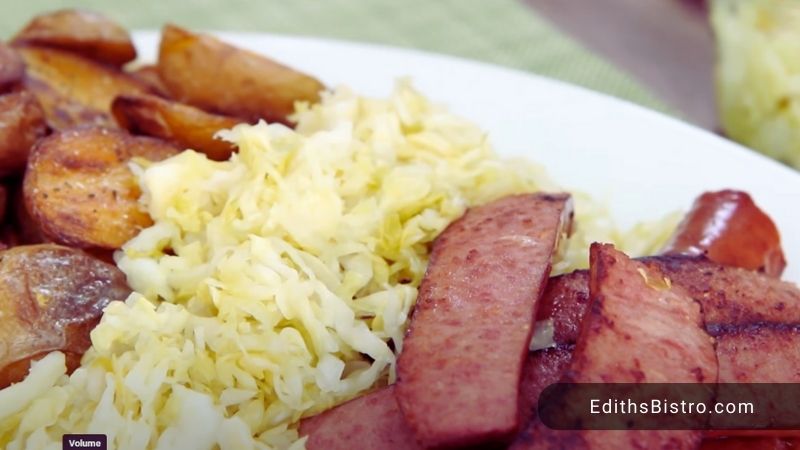 Add a pop of tangy flavor to your corned beef meal with Sauerkraut! This fermented cabbage dish brings a refreshing tanginess and a satisfying crunch that wonderfully complements the rich, hearty corned beef. It's also a great way to add a healthy, probiotic-rich side to your meal. The contrasting flavors and textures will excite your taste buds and beg for another bite!
Arugula Salad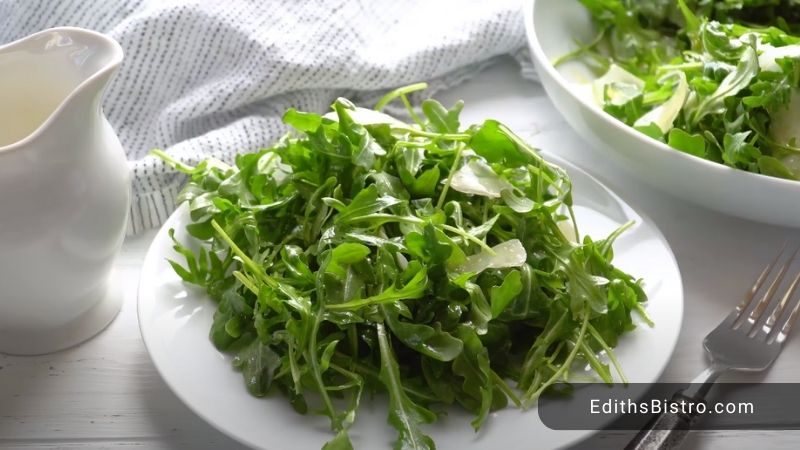 Looking to lighten up your hearty corned beef meal? Try an Arugula Salad! The peppery bite of arugula tossed with your favorite vinaigrette offers a fresh, vibrant contrast to the rich, savory corned beef. Its crisp texture and bright flavors delight each bite, balancing out your meal beautifully. Who knew going green could be so tasty?
Kale Caesar Salad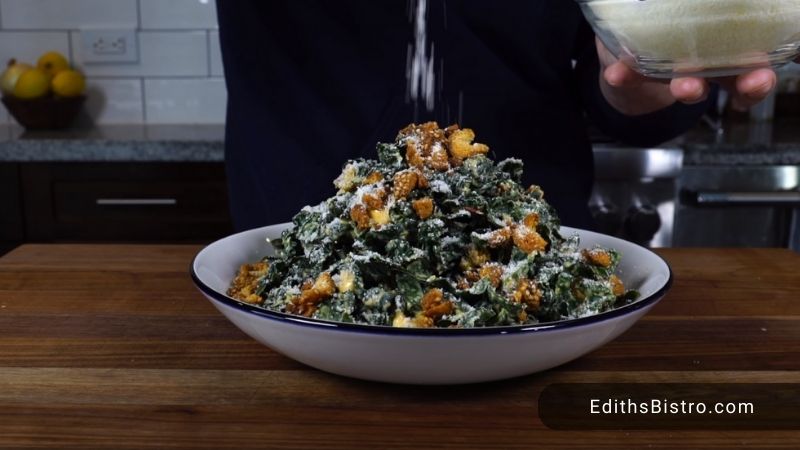 Kale, yeah! This isn't your average Caesar salad. Robust, crunchy kale leaves dressed in creamy Caesar dressing make a hearty salad that matches the bold flavors of corned beef. The salad's strong, earthy flavors harmonize with the savory beef, creating a balanced and delicious meal. Kale Caesar Salad – it's a classic reinvented!
Italian Radicchio Salad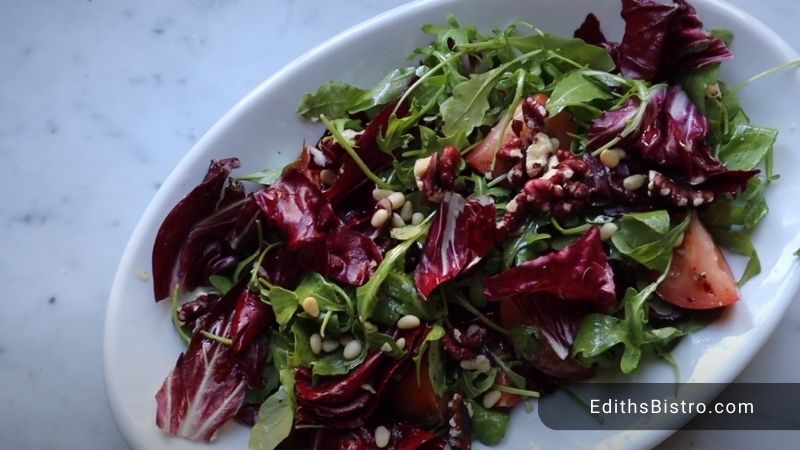 Welcome to a world of flavor with our Italian Radicchio Salad! This salad is a palette of peppery and slightly bitter radicchio leaves tossed with your favorite dressing. Its vibrant color and crisp texture delight every bite, and its bold flavor is a welcome surprise. This isn't just a salad, it's a flavor festival in a bowl. You'll be reaching for seconds before you know it!
Instant Pot Black Bean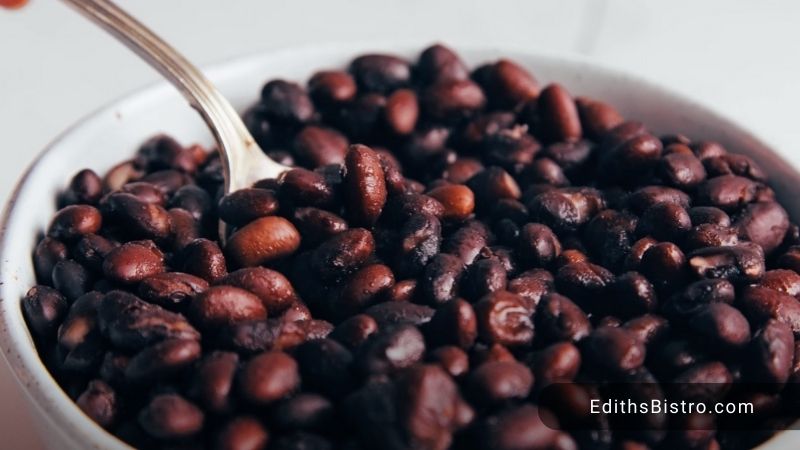 Get ready for a hearty, comforting side dish that's as flavorsome and easy to make. Our Instant Pot Black Beans are cooked to perfect tenderness, boasting a rich, earthy flavor that'll have you swooning. They're a versatile side that pairs well with almost anything, and the best part? They're ready in a jiffy, thanks to the magic of the Instant Pot. One spoonful, and you'll be an Instant Pot convert!
Top Soup Choices For Corn Beef's Pairing
Cabbage Roll Soup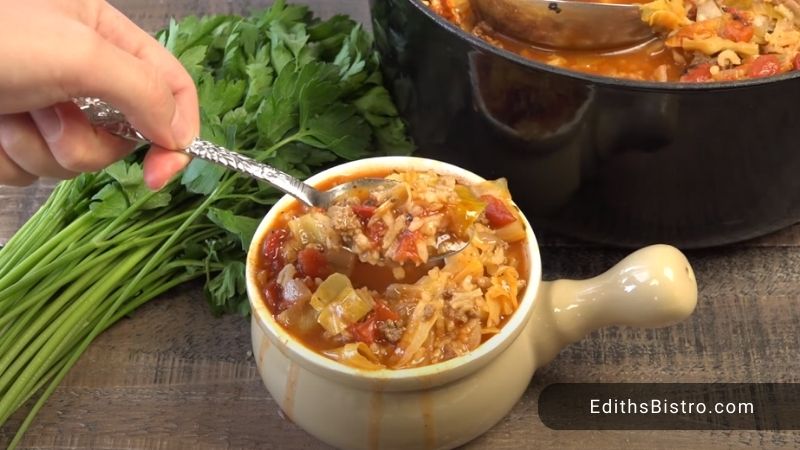 Imagine all the deliciousness of cabbage rolls in a comforting, easy-to-eat soup. That's our Cabbage Roll Soup! It's loaded with tender cabbage, hearty beef, and flavorful spices simmering in a rich tomato broth. Each spoonful is a warm hug for your taste buds, packed with comforting and satisfying flavors.
Trust us, this is one soup you'll want to cozy up with!
Corned Beef Hash Soup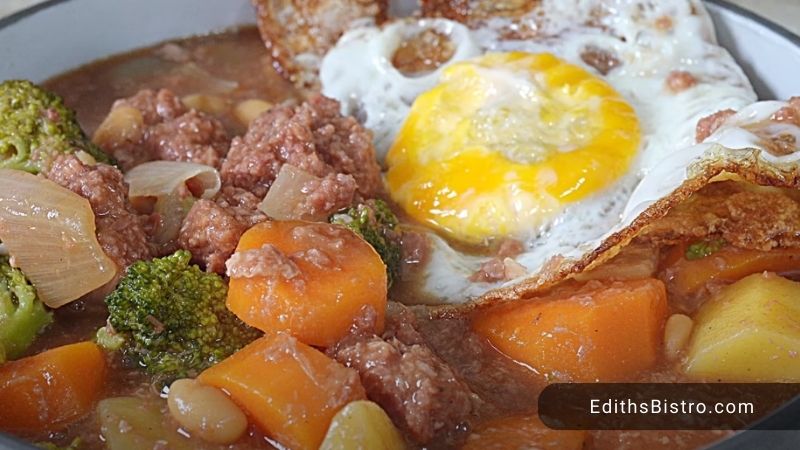 Say hello to a hearty bowl of Corned Beef Hash Soup! This soup combines tender chunks of corned beef, diced potatoes, and a selection of veggies in a savory broth. Each spoonful is like a warm, comforting hug that's bursting with flavor. It's the kind of tasty comfort food soup you'll crave on a chilly day. Don't miss out on this comforting bowl of deliciousness!
Top Sweet Dessert Choices To Finish The Corned Beef Meal
Irish Apple Cake & Vanilla Custard Sauce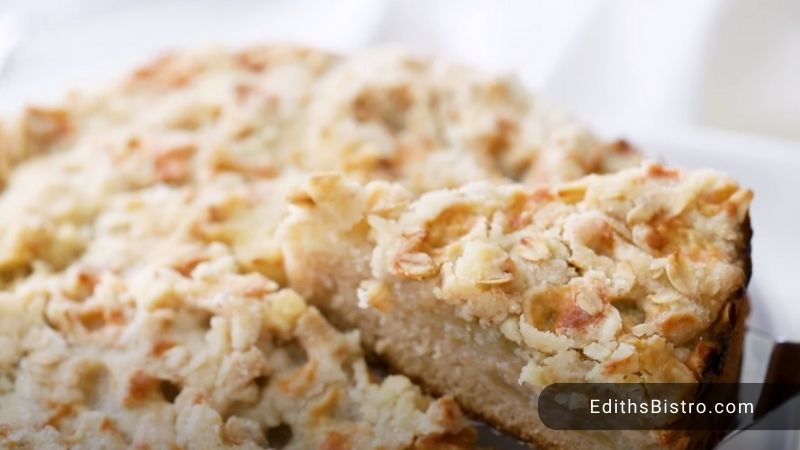 Get ready to fall in love with our Irish Apple Cake! This moist, tender cake is filled with sweet, juicy apples and topped with a dreamy Vanilla Custard Sauce. The cake is a delightful combination of sweet and tangy flavors, and the custard adds a creamy richness that's simply irresistible. It's a sweet ending to any meal that will leave you smiling.
Irish Oatmeal Cake & Caramel Pecan Frosting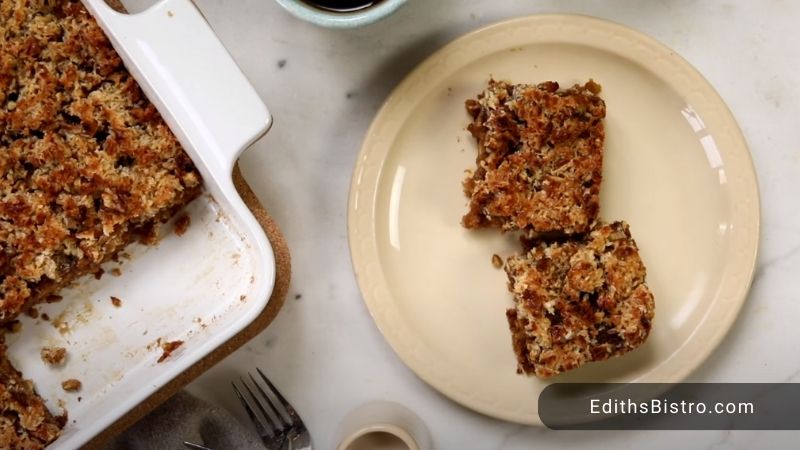 This cake is wonderfully moist and packed with the wholesome flavor of oats. Topped with a luscious Caramel Pecan Frosting, it's a delightful balance of nutty, sweet, and slightly salty flavors that will reach you for seconds. One bite, and you'll be transported to a cozy Irish kitchen!
Strawberry Lemon Blondies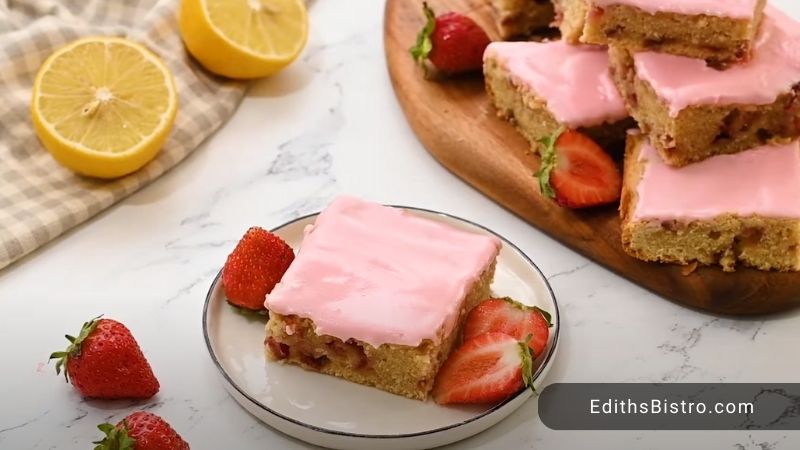 Brighten up your day with our Strawberry Lemon Blondies! These sunny squares are filled with sweet strawberries and tangy lemon for a dessert that's bursting with fresh, fruity flavor. The blondies are wonderfully moist and chewy, with a refreshing zing from the lemon that makes every bite a delight. It's the perfect treat for when you want something sweet but not too heavy. Enjoy!
Leprechaun Bait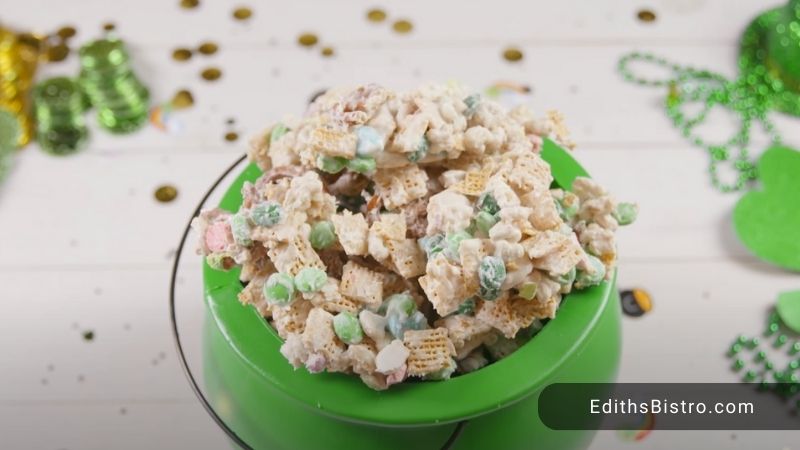 This delightful snack is a colorful mix of sweet and salty goodies. Think crunchy popcorn, pretzels, and cereal, all coated with a green candy glaze and sprinkled with rainbow candies. It's a playful, festive treat with a delightful crunch and a sweet-salty flavor that's utterly addictive. Perfect for St. Patrick's Day or any time you need a bit of whimsy in your day. One bite and you'll be as hooked as a leprechaun on a pot of gold!
FAQs
What To Serve With Corned Beef Sandwiches?
Chips, coleslaw, soup – crunchy cravings beg to be satisfied!
What To Serve With Corned Beef Fritters?
Remember, sweetness tames the savor. You can have applesauce, slaw, or ketchup beside corned beef fritters.
What To Serve With Corned Beef Hash For Breakfast?
Eggy indulgence makes it a meal! Eggs, toast, and fruit are all excellent choices!
Reference
Welcome to Edith's French Bistro, an enchanting, high-end French culinary haven located in Plano, Richardson and Allen. Setting itself apart, this restaurant boasts a wide array of artisanal desserts, custom-crafted cakes, a blend of sweet and savory crepes, and an elegant high tea service. Furthermore, it serves invigorating beverages, delicious lunch and dinner main courses, and a delectable weekend brunch. To top it off, they also offer breakfast options throughout the day.
To augment your culinary experience, we've introduced a blog – a rich repository of culinary wisdom designed to inspire and guide individuals on their cooking journey. It's a treasure trove of knowledge spanning from the basics of cooking to more complex and advanced techniques. Whether you are a novice just beginning to explore the culinary landscape or an accomplished chef seeking new inspiration, you'll discover practical, beneficial advice that aligns with your culinary aspirations.