Enjoy Kobe beef, a renowned luxury in the meat world, comes at a cost. When you ponder, "How much is Kobe beef per pound?" the answer is opulence. It is no ordinary steak; it's the pinnacle of beef, known for its unmatched marbling, tenderness, and flavour. So, let's explore how much is Kobe beef per pound and the price of Wagyu, too.
How Much Is Kobe Beef Per Pound?
The cost of Kobe beef starts at $250 per pound or higher. Kobe beef is a type of Wagyu beef, but its origin sets it apart. Japanese Kobe beef is renowned for its exquisite taste and tenderness, and it's no surprise that this delicacy comes with a premium price tag. It's exclusively from the Hyogo Prefecture in Japan and must meet strict criteria.
A5 Kobe beef price?
A5 Kobe beef costs $399.99 for a 2-pound portion. For those who don't know, the 'A' means the yield grade, skipping the usable meat ratio, while '5' signifies the marbling score, indicating the fat quality within the meat. A5, the highest grade possible, represents the most marbled and delectable meat.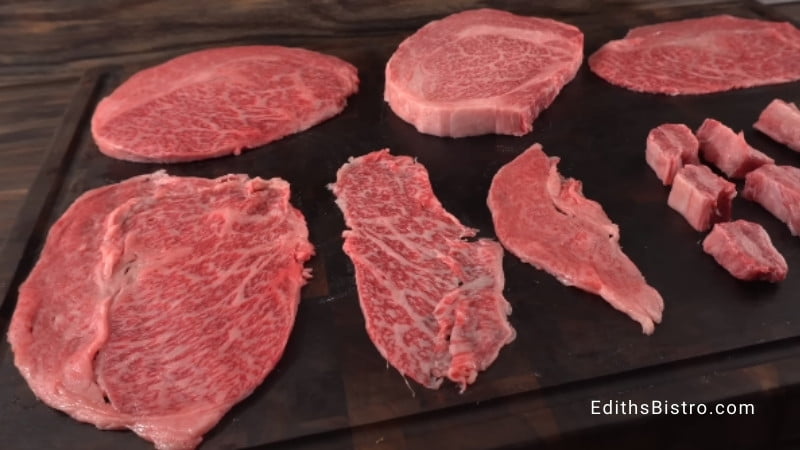 A5 Japanese wagyu can cost $440 to $660 per kilogram. So, when you opt for A5 Kobe beef, you're treating yourself to some of the finest, most well-marbled meat available, creating a truly exceptional culinary experience beef in the world.
How Much Is Wagyu Beef Per Pound?
Authentic Japanese Wagyu beef typically starts at $250 per pound and can go up. This premium beef is renowned for its high marbling, tenderness, and exquisite flavour. Its price varies depending on factors like the grade, cut, and source, with A5 Wagyu being among the most expensive due to its exceptional quality.
While still expensive, American Wagyu beef is often more affordable than its Japanese counterpart, from $100 to $150 per pound.
How much is a5 wagyu beef per pound?
A5 Wagyu beef costs around $120.00 per pound. This premium beef comes from Japanese Wagyu cattle, known for their incredible marbling and flavour. It's important to note that A5 is one of the highest grades of Wagyu, and its price reflects its exceptional quality. The unique fat marbling in A5 Wagyu gives it a melt-in-your-mouth texture and a rich, buttery taste that many food enthusiasts find exquisite.
How much is Wagyu ground beef per pound?
Wagyu ground beef costs between $20 to $30 per pound. This premium ground beef is made from Wagyu cattle (cow), known for its exceptional marbling and rich flavour. While it's more expensive than regular ground beef, many people consider it worth the cost for its outstanding taste and tenderness. It's often used in gourmet burger recipes or for making dishes where the beef's flavour and quality shine through.
How Much Is Kobe Beef Per Pound In California?
In California, Kobe beef costs the same as in the general market, which can vary but is generally quite high, often exceeding $200 per pound. If you're looking for restaurants that serve Kobe beef in California, a quick search on Google Maps and clicking on their websites can help you find the best places to enjoy this premium beef.
Kobe Beef Price Costco?
At Costco, the price for Kobe steak can range from $1,199 to $1,499 for approximately 11 pounds. Costco is a popular retail store in the USA, and you can find their locations nationwide. If you're looking for this exclusive beef, you should check with your local Costco or their online store for availability and pricing.
When you visit Costco, you might want to try their famous food court items. They're known for their delicious and budget-friendly options like the Costco pizza, hot dogs, and iconic rotisserie chicken. These items have become staples for many Costco shoppers and offer a tasty and affordable dining experience.
FAQs
Is Kobe beef expensive?
Yes, Kobe beef is renowned for its costliness. It's considered one of the most expensive beef varieties globally, with prices often exceeding $250 per pound, making it a luxurious and rare culinary indulgence.
Kobe beef price per kg?
Kobe beef typically costs around $550 to $700 per kilogram (approximately $250 to $320 per pound). It's famous for its exquisite marbling and intense flavour, contributing to its high price tag, and is considered a delicacy worldwide.
Kobe beef price per ounce?
The price of Kobe beef per ounce can vary depending on factors like the cut and quality, but on average, it can range from $20 to $40 per ounce.
References:
Welcome to Edith's French Bistro, an enchanting, high-end French culinary haven located in Plano, Richardson and Allen. Setting itself apart, this restaurant boasts a wide array of artisanal desserts, custom-crafted cakes, a blend of sweet and savory crepes, and an elegant high tea service. Furthermore, it serves invigorating beverages, delicious lunch and dinner main courses, and a delectable weekend brunch. To top it off, they also offer breakfast options throughout the day.
To augment your culinary experience, we've introduced a blog – a rich repository of culinary wisdom designed to inspire and guide individuals on their cooking journey. It's a treasure trove of knowledge spanning from the basics of cooking to more complex and advanced techniques. Whether you are a novice just beginning to explore the culinary landscape or an accomplished chef seeking new inspiration, you'll discover practical, beneficial advice that aligns with your culinary aspirations.