Salmon is a tasty fish packed with Omega-3 fats and protein, which help keep your heart and brain in tip-top shape. That's why it's important to understand how long to bake salmon at 425 degrees. This common oven temperature helps the salmon cook perfectly, staying juicy and flavorful.
With our easy guide, you'll learn how to cook salmon at 425 degrees in your oven. We'll help you get a perfectly baked salmon fillet using a recipe that's as tasty as it is healthy.
How Long To Bake Salmon At 425 Degrees
The best time to bake a salmon fillet at 425 degrees Fahrenheit in the oven is around 10-12 minutes per inch of thickness. This rule will help you get a delicious baked salmon cooked just right.
But remember that the exact baking time can change a bit. It can depend on the thickness of the salmon and if your oven heats evenly. So, always check your salmon to make sure it's done.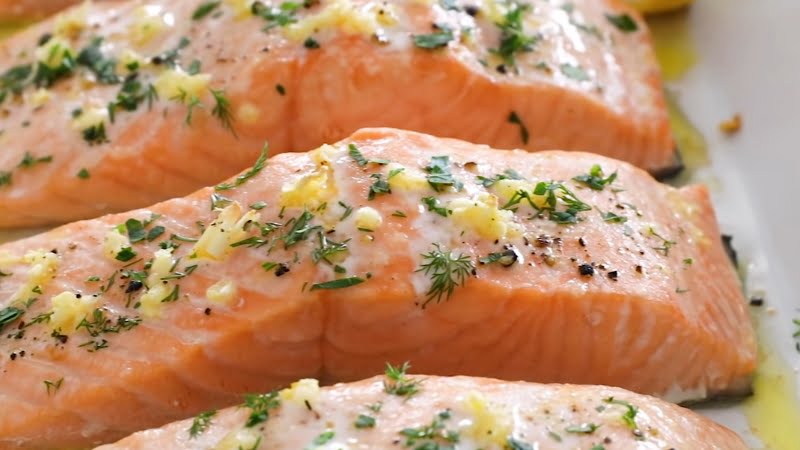 If you're cooking salmon in foil, you might need to add a few more minutes to the baking time. This is because wrapping the salmon in foil keeps the heat from getting to the fish as quickly. But don't worry – it's easy to do. Just wrap your salmon in foil, then bake it in the oven at 425°f for 15-20 minutes.
What about if you're cooking frozen salmon? In this case, you can still bake the salmon at 425 degrees Fahrenheit. But you'll need to add more time. It can take around 20-25 minutes to bake a frozen salmon fillet at 425 degrees.
Finally, how can you tell when your salmon is done? The easiest way is to check the temperature with a cooking thermometer. When it reads 145 degrees Fahrenheit, your salmon is cooked perfectly. If you don't have a thermometer, look for the salmon to be opaque (not see-through) and to flake easily with a fork.
Baked Salmon Nutrition Facts
Salmon is an excellent source of Omega-3 fats, which help your brain work well and can lower the chances of getting some long-term diseases. Plus, they help with things like swelling in your body.
This tasty fish is also packed with high-quality protein and vitamin B12. These are super important because they help your body build new stuff and fix damaged parts. They're also good for keeping your blood cells and nerves working properly.
But that's not all. Salmon also gives you vitamin D, which is key for strong bones. And it has antioxidants, which help your body fight diseases and keep you healthy.
In simple terms, baked salmon is a healthy dish that's good for your brain, your bones, and even your immune system. So, next time you wonder how long to bake salmon at 425 degrees, remember this delicious dish's nutritious benefits!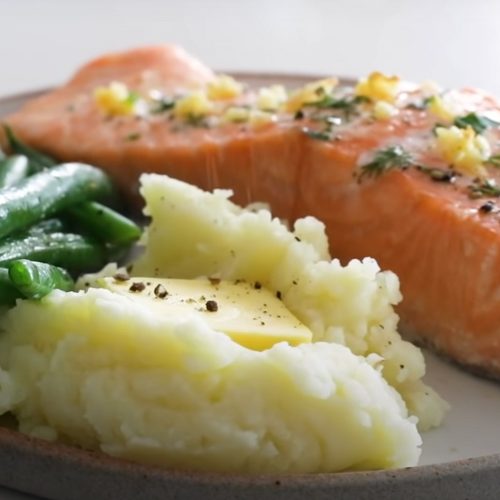 Baked Salmon
Here's an easy baked salmon recipe you can follow. This one uses lemon for extra flavor, but you can add your favorite spices too. Let's start by getting our equipment and ingredients ready.
Equipment
1 Oven

1 baking sheet or dish

Aluminum foil

1 cooking thermometer

(optional but helpful)
Ingredients
1

salmon fillet

(about 1-inch thick, approximately 1 pound)

1/2

teaspoon

of salt

1/4

teaspoon

of black pepper

1

lemon

(sliced into thin rounds)

1

tbsp

of olive oil
Instructions
First, preheat your oven to 425 degrees. This means you turn it on and let it heat up before you put the salmon in.

While your oven is heating up, put your salmon fillet on a piece of foil. You can use either skinless salmon or salmon with skin, whatever you prefer.

Now, sprinkle some salt and pepper on the salmon. Then, arrange the lemon slices on top. Drizzle a little bit of olive oil over everything.

Next, wrap the salmon in the foil. This helps it stay moist while it's baking.

Once preheated oven, put your wrapped salmon on a baking sheet or dish. Then, put it in the preheated oven.

Bake your salmon for about 10-12 minutes per inch of thickness. Remember, if you're using a cooking thermometer, the salmon is done when it reaches an internal temperature of 145 degrees Fahrenheit. If you don't have a thermometer, look for the salmon to be opaque (not see-through) and to flake easily with a fork.

When your salmon is done, carefully take it out of the oven. Let it cool down for a few minutes before opening the foil.

And there you go—a delicious, perfectly baked salmon that is moist and flavorful. If you have leftover salmon, you can store it in an airtight container in the refrigerator.
Notes
So next time you're wondering how long to bake salmon at 425 degrees, just remember these simple steps. 
Tips For Ensuring Moist And Flavorful Salmon
Cooking salmon perfectly can seem like a big task, but don't worry! Here are some easy tips to help you get a moist and tasty salmon every time you bake.
Preheat the Oven: Always start by preheating your oven to 425 degrees Fahrenheit. This ensures the oven is hot enough when you place the salmon, leading to even cooking.
Check the Thickness: The cook time for your salmon depends on how thick the fillet is. Baking salmon for 10-12 minutes per inch of thickness is a good rule of thumb. This helps you avoid under or overcooking.
Season Well: Don't forget to season your salmon before cooking. Simple seasonings like salt, pepper, and a squeeze of lemon can make a difference in flavor.
Avoid Overcooking: Overcooked salmon can turn dry. To prevent your salmon from drying out, cook it until it reaches an internal temperature of 145 degrees Fahrenheit. This is when it's just right!
Proper Storage: If you have leftover baked salmon, place it in an airtight container before storing it in the fridge. This keeps the salmon fresh and flavorful for your next meal.
With these tips in mind, you'll know exactly how long to bake salmon at 425 degrees to achieve a perfectly moist and delicious result.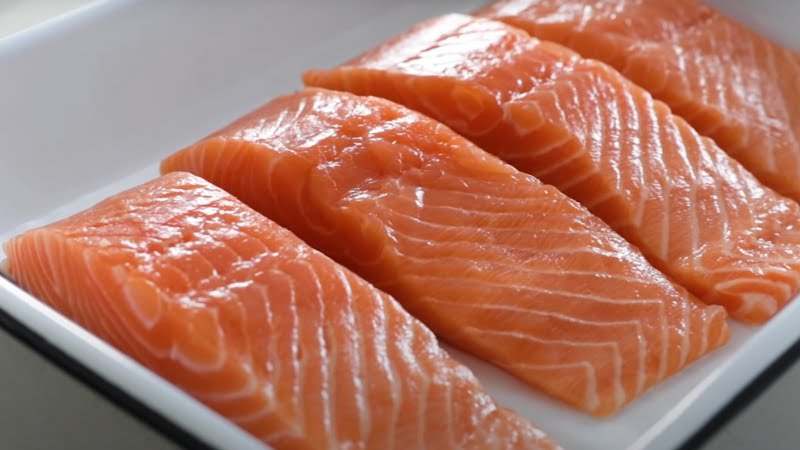 FAQs
Is 425 too high to bake salmon?
No, baking salmon at 425°F is actually ideal for achieving tender and juicy fillets. Cooking at this temperature typically takes under 10 minutes, even for thicker fillets. We suggest baking the salmon uncovered for the best results.
How long does it take to bake 6 oz salmon at 425?
A 6-oz salmon fillet should be baked in a 425°F oven for about 15 minutes. However, the most reliable way to check for doneness is by using a thermometer. If your fillets are notably larger than 6 oz or are thicker, they will require more oven time.
Do you cook salmon at 425 or 450?
You should preheat your oven to 450°F for baking salmon. Season your salmon with salt and pepper, place it skin-side down on a non-stick baking sheet or a non-stick, oven-safe pan, and bake until the salmon is fully cooked, generally around 12 to 15 minutes.
How long does it take to bake 4 oz salmon at 400?
At 400°F, a salmon fillet typically takes 15 to 20 minutes to cook if you're baking it wrapped in foil. The key aspect of monitoring is the internal temperature. Salmon should be cooked until the internal temperature is between 145°F and 160°F.
Do you flip salmon over when baking?
No, it's not necessary to flip the salmon while baking. Start with the fish flesh side down and the skin side up. The skin will become crispy during baking, and there's no need to crowd the pan or move the fish around.
Can you eat salmon skin?
Absolutely, you can eat the skin of the salmon. While it may have a slightly more pronounced flavor than the flesh, properly prepared salmon skin can be a tasty and healthy addition to your meal.
Conclusion
Baking a salmon fillet can seem like a daunting task, but it's easier than you might think. Once you understand how long it takes to bake salmon in the oven at 425 degrees, you're already halfway there!
In most cases, it should take about 25 minutes to bake a one-inch thick salmon fillet. This time may vary slightly based on the exact thickness of your fillet, so it's always a good idea to check the doneness with a thermometer. The salmon should be cooked to an internal temperature of 145 degrees Fahrenheit.
Whether you prefer the crispy salmon skin or like your salmon skinless, baking salmon at 425 degrees Fahrenheit in a preheated oven will give you a moist, tender, and perfectly cooked salmon fillet every time.
Welcome to Edith's French Bistro, an enchanting, high-end French culinary haven located in Plano, Richardson and Allen. Setting itself apart, this restaurant boasts a wide array of artisanal desserts, custom-crafted cakes, a blend of sweet and savory crepes, and an elegant high tea service. Furthermore, it serves invigorating beverages, delicious lunch and dinner main courses, and a delectable weekend brunch. To top it off, they also offer breakfast options throughout the day.
To augment your culinary experience, we've introduced a blog – a rich repository of culinary wisdom designed to inspire and guide individuals on their cooking journey. It's a treasure trove of knowledge spanning from the basics of cooking to more complex and advanced techniques. Whether you are a novice just beginning to explore the culinary landscape or an accomplished chef seeking new inspiration, you'll discover practical, beneficial advice that aligns with your culinary aspirations.