When grilling a delicious steak, choosing the right cut of meat is essential. Two popular choices, the flat iron and skirt steak, often get overlooked in favor of the more famous ribeyes or filet mignons.
However, these steaks offer unique flavors and textures that can make your next barbecue memorable. In this article, let's dive into the differences between flat iron vs skirt steak, helping you make an informed choice for your next cookout.
Flat Iron Vs Skirt Steak: The Verdict
There is no clear winner in the battle of flat iron vs skirt steak. They come with their unique characteristics, which set them apart. Flat iron and skirt steak are distinct beef cuts with unique characteristics. Flat iron, sourced from the cow's shoulder region, is tender, marbled, and versatile, suitable for various cooking methods. In contrast, skirt steak originates from the diaphragm muscle, known for its robust beefy flavor and unique texture, but requires marinating for tenderness. While flat iron excels in tenderness and marbling, skirt steak shines in flavor and texture.
What is a flat iron steak?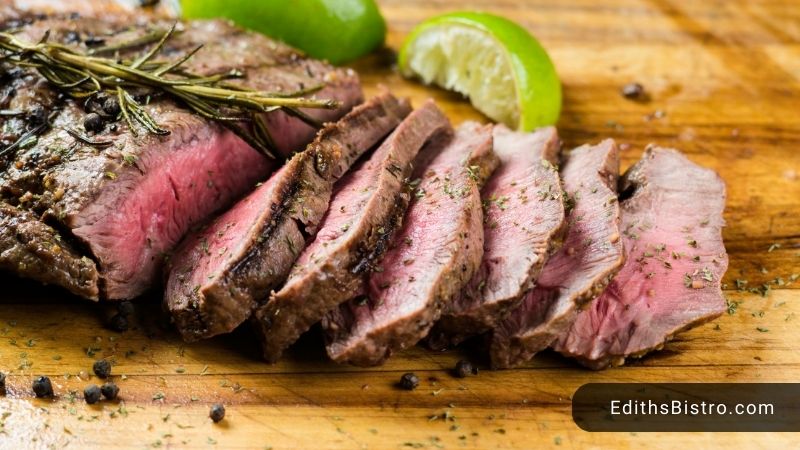 Flat iron steak, or top blade steak, is a specific beef cut that has gained popularity due to its impressive tenderness and rich flavor. It is sourced from the shoulder region of the cow, specifically from the top blade roast or top shoulder.
What sets flat iron steak apart is its abundant marbling, which consists of small streaks of fat distributed throughout the meat. This marbling enhances the steak's juiciness and overall flavor profile, making it a sought-after choice among beef enthusiasts.
The flat iron steak came about in the 1990s when people wanted to use beef better and sell it at discounts. Researchers like Dwain Johnson at the University of Florida and Chris Calkins at the University of Nebraska worked on this.
What is a skirt steak?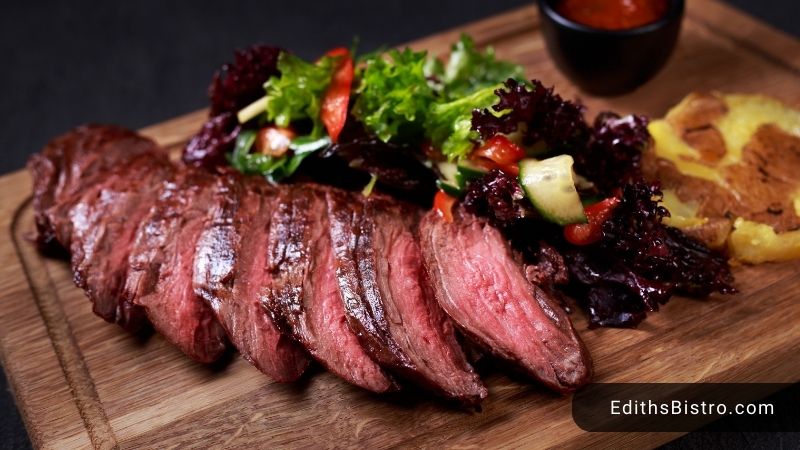 Skirt steak is a beef cut from the cow's plate or diaphragm region. It's characterized by its long, flat, and relatively thin shape, featuring a prominent grain that runs across its width.
The inside and outside skirt steak come from the trimmed, boneless section of the diaphragm muscle, which is connected to the 6th through 12th ribs on the underside of the short plate. It's worth noting that this steak is typically encased in a tough membrane that can be removed before cooking.
This cut is renowned for its robust beefy flavor and is commonly used in various dishes like stir-fries, fajitas and carne asada. Due to its lean nature and pronounced grain, it's often marinated before cooking to enhance tenderness and flavor.
One important note is that skirt steak, hanger steak, and flank steak are different cuts. Many people confuse them.
The key difference between flat iron and skirt steak
Flat iron and skirt steak have their own unique culinary characteristics. They are different in cut, texture, flavor, and cooking suitability, making them well-suited for various dishes and personal preferences. Here are 8 key differences between flat iron vs skirt steak:
| Characteristics | Flat iron steak | Skirt steak |
| --- | --- | --- |
| Cut and location | Flatiron is cut from the shoulder area, specifically the top blade muscle. | Skirt steak comes from the diaphragm muscle in the lower chest or abdominal area (plate). |
| Texture and appearance | Flatiron steak is known for its exceptional tenderness and fine marbling throughout the meat. | Skirt steak has a more pronounced grain and is leaner than flat iron. |
| Flavor profile | It offers a rich, beefy flavor with moderate marbling, contributing to juiciness and a well-rounded taste. | It is known for its intense beefy flavor and is slightly more robust in taste. |
| Tenderness | Flat iron steak is considered one of the most tender cuts of beef, and you don't need to marinate or tenderize it before cooking. | While flavorful, it's less naturally tender and benefits from marinating before cooking. |
| Versatility | It is highly versatile and suitable for various cooking methods, including grilling, pan-searing, broiling, or roasting. | Skirt steak thrives when prepared using slow and gentle cooking techniques like grilling or prolonged braising, allowing its robust beefy taste to fully develop. |
| Cost | This cut offers a great balance of affordability and quality. | Skirt steak is cheaper compared to flat iron steak. |
| Serving size | It is suitable for larger meals or shared dishes since it can serve two or more people. | Skirt steak generally serves two people, making it ideal for smaller, more intimate meals. |
| Popular dishes | Flat iron steak offers versatility, making it an ideal choice for crafting delicious steak sandwiches, adding a flavorful twist to salads, or serving alongside your preferred accompaniments. | Skirt steak shines in fajitas and stir-fries, whose bold and flavorful character adds depth to the meal. |
Flat Iron Vs Skirt Steak – Pros And Cons
In fact, the choice between skirt steak and flat iron steak depends mostly on your preferences and the specific dish you're preparing. Both cuts have their own pros and cons:
Flat iron pros and cons
Exceptional tenderness

No extra tenderization required

Suitable for cooks of all skill levels

Robust, beefy flavor

Well-distributed marbling

Highly versatile and suitable for various cooking methods

Cost-effective yet flavorful cut
Skirt steak pros and cons
Intense, straightforward, beefy taste

Unique texture with long muscle fibers

Lean composition

Perfect for recipes like fajitas, tacos, stir-fries
Less natural tenderness

Marinating required

Not suitable for all types of dishes
Flat Iron Vs Skirt Steak – Which Is Better?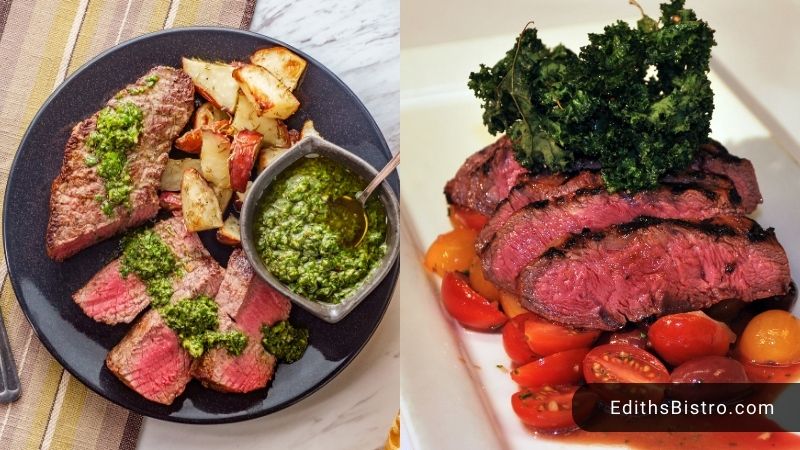 In conclusion, flat iron and skirt steaks are placed on the grill or in the kitchen. Understanding their differences allows you to make the right choice based on your culinary goals.
Flat iron steak is likely the better option if you prioritize tenderness, versatility, and marbling.
Conversely, if you appreciate a pronounced beefy flavor and plan to cook dishes emphasizing texture, skirt steak is an excellent choice.
FAQs
Should I choose a flat iron or skirt steak for fajitas?
Skirt steak is ideal for fajitas since it offers a bold and robust flavor. Thus, even though you can choose a flat iron and a skirt steak for fajitas, a skirt steak is more recommended.
Is flat iron steak the same as skirt steak?
No, flat iron and skirt steak are two completely different cuts of beef. While flat iron is sourced from the chuck primal cut, skirt steak comes from the cow's diaphragm.
Is the inside skirt steak the same as the flat iron?
No, the inside of a skirt steak is not the same as a flat iron steak. It tends to be flavorful but can be tougher and less tender than flat iron steak.
Can you substitute a flat iron for skirt steak?
Substituting flat iron for skirt steak or vice versa is possible. Still, it is important to note that these cuts have different characteristics, so the result may vary in flavor and texture. Flat iron steak may work well in dishes that require a tender, juicy steak, while skirt steak can provide a more robust, chewy texture.
References:
Welcome to Edith's French Bistro, an enchanting, high-end French culinary haven located in Plano, Richardson and Allen. Setting itself apart, this restaurant boasts a wide array of artisanal desserts, custom-crafted cakes, a blend of sweet and savory crepes, and an elegant high tea service. Furthermore, it serves invigorating beverages, delicious lunch and dinner main courses, and a delectable weekend brunch. To top it off, they also offer breakfast options throughout the day.
To augment your culinary experience, we've introduced a blog – a rich repository of culinary wisdom designed to inspire and guide individuals on their cooking journey. It's a treasure trove of knowledge spanning from the basics of cooking to more complex and advanced techniques. Whether you are a novice just beginning to explore the culinary landscape or an accomplished chef seeking new inspiration, you'll discover practical, beneficial advice that aligns with your culinary aspirations.