You are standing in front of the fridge, uncertain whether that package of raw chicken is still good or not. The smell is unusual, and that's why it's crucial to know: what does raw chicken smell like? Let's dive into the answers to the questions and how you can tell when it's gone bad.
What Does Raw Chicken Smell Like?
Raw chicken typically has a faint, slightly metallic odor. However, fresh chicken should not have a strong or offensive smell. If the chicken has a sour or ammonia-like smell, it's a sign that it might be spoiled. The smell can be described as mild and somewhat neutral, similar to raw eggs or fresh meat. If you encounter an unpleasant odor, it's best to avoid using the chicken.
What Does Raw Chicken Smell Like When It Gone Bad?
When raw chicken has gone bad, the smell is often described as sour, rotten eggs, or putrid. It can be reminiscent of ammonia or sulfur, giving off a pungent, off-putting odor that is hard to miss. This foul smell indicates that the chicken has started to decompose due to the growth of bacteria. If you encounter this strong and offensive smell while cooking chicken, it's a clear sign that the chicken is no longer safe to eat.
There are some other ways to tell chicken is bad besides smell bad. When the chicken has gone bad and is spoiled, the meat may feel slimy or tacky to the touch. Additionally, the color of the chicken may shift from pink or beige to a dull grayish tone. The skin could also become discolored or develop dark spots. If you come across chicken with sticky skin, an unusual gray color, or any other signs that the texture or appearance is off, it's best to remove it to avoid food poisoning.
What Does Raw Chicken Breast Smell Like?
Raw chicken breast typically has a faint, mild scent that can be described as slightly sweet or almost neutral. Fresh raw chicken breast is firm and slightly springy. It should feel moist but not overly wet. Bad chicken breasts could feel excessively wet due to the growth of bacteria. These changes in texture and appearance are important signs to watch for when determining whether raw chicken breast has gone bad.
What Does Raw Ground Chicken Smell Like?
Raw ground chicken has a mild scent. When it comes to appearance, fresh ground chicken should be a light pink color. If the meat feels sticky or excessively slimy to the touch, it's a sign that it might have gone bad and should be discarded.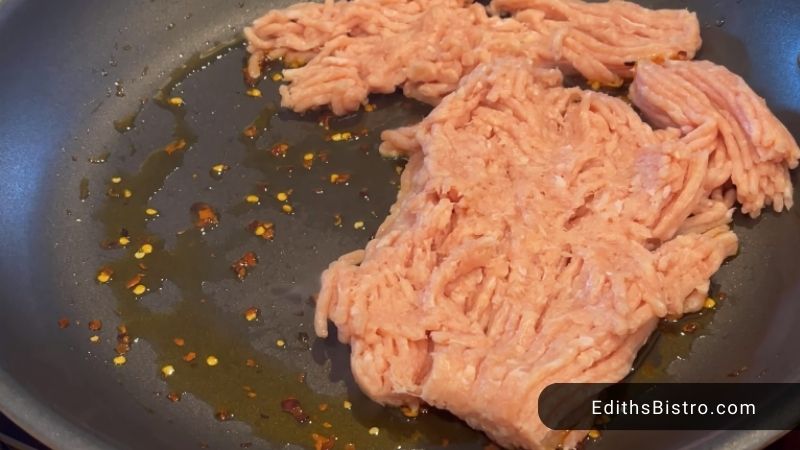 Ground chicken is sensitive to spoilage, and it's recommended to use it promptly. Even if it hasn't been browned yet, it could go bad, so you should cook or freeze it as soon as possible. While it's normal for raw poultry to have some color changes as it ages, the changes may not be as obvious as in other meats like beef. Therefore, it's important to rely on your sense of touch and look.
FAQs
What should raw chicken smell like eggs?
Raw chicken should not smell like eggs. If you detect an eggy or sulfur-like odor, it could indicate spoilage or the presence of harmful bacteria.
What do raw chicken thighs smell like?
Fresh raw chicken thighs should have a neutral smell, similar to other raw meats. If the thighs have an unusual or foul smell, it's a sign that they might be spoiled.
Chicken smells funny but still in date?
If your chicken smells funny but is still within the date on the package, it's better to trust your nose to tell if the chicken is bad. Even if the date hasn't passed, an unusual smell could indicate that the chicken has started to spoil.
What does raw chicken taste like?
Raw chicken tastes pretty plain and doesn't have a lot of flavor. It also feels slippery, soft, and hard to chew, which is nothing like the tasty and solid chicken we're used to eating when it's cooked.
References:
Welcome to Edith's French Bistro, an enchanting, high-end French culinary haven located in Plano, Richardson and Allen. Setting itself apart, this restaurant boasts a wide array of artisanal desserts, custom-crafted cakes, a blend of sweet and savory crepes, and an elegant high tea service. Furthermore, it serves invigorating beverages, delicious lunch and dinner main courses, and a delectable weekend brunch. To top it off, they also offer breakfast options throughout the day.
To augment your culinary experience, we've introduced a blog – a rich repository of culinary wisdom designed to inspire and guide individuals on their cooking journey. It's a treasure trove of knowledge spanning from the basics of cooking to more complex and advanced techniques. Whether you are a novice just beginning to explore the culinary landscape or an accomplished chef seeking new inspiration, you'll discover practical, beneficial advice that aligns with your culinary aspirations.