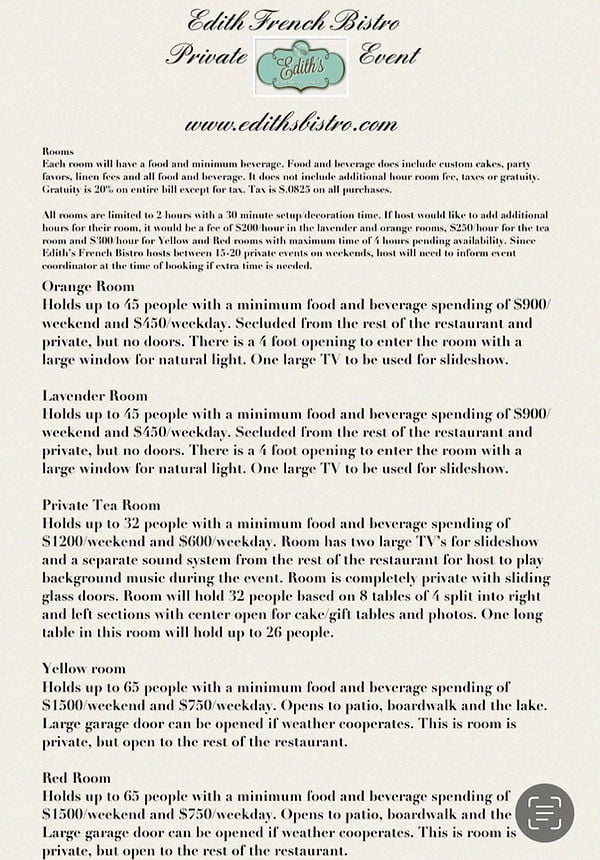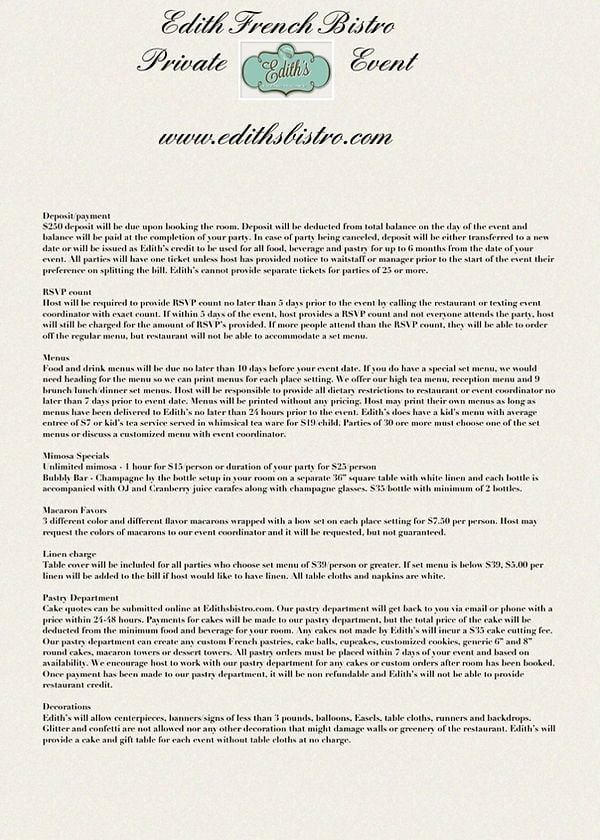 Menu:
Private room bookings require a pre-set menu or catering menu. Custom private event menus can be created with consultation. You may bring your own cake but we charge a cake serving fee of $35.​
Menu Tasting:
Menu tastings are complimentary with signed event contract, deposit and confirmation for parties of 100 or more. Tasting is limited to 2 (two) people.
Room Options:
Semi-Private Dining Rooms – (Deposit: $250 per room) Our semi-private dining rooms are located away from our main dining spaces and offer 2 TV's for presentation for photo collages. Each room seats up to 40 and also boasts a private entrance (for parties larger than 40). Rooms will be assigned after your booking has been made.
Minimum Expenditure is $1,500.
Private Dining Tea Room:
(Deposit: $250) Our high tea room is an atmosphere of pure simple elegance that offers complete privacy. This room also offers 2 TV's for presentations or photo collages and its own audio connection for personal musical touches.
Minimum Expenditure Friday to Sunday is $1,200 (Minimum 15 people.) Excluding tax and gratuity.
Patio:
(Deposit: 25% of estimated cost) Our patio offers 6 cabanas with enough space to accommodate cocktail mixers or seated plated dinners. Our patio faces the gorgeous Boardwalk and is decorated with lush greenery; it gives the ultimate French ambiance. The patio can host a minimum of 25 people to 150 (75 for a seated dinner) as well as offering a private entrance (minimum of 80 people).
Minimum Expenditure Friday to Sunday is $3500
Minimum Expenditure Monday to Thursday is $2000
Entire Premises Rental: Please Email info (at) edithsbistro.com
Date Confirmation:
Credit card is needed to reserve a room prior to confirming menu.
Deposit:
Once all event details are finalized, your event is confirmed with a deposit. Your deposit will then be applied to your total event cost.
Cancellation:
Deposits to hold the date and time of the event and the room are nonrefundable. Cancellations of the event date will cause your deposit to be forfeited.
Decorations:
Host can decorate up to 20 minutes before reservation time If approved by management (No glitter or confetti please.) NO OUTSIDE FOOD per our insurance. The only exception is cake.
Cake Services:
We do offer custom cakes, cupcakes, desserts, pastries, sugar cookies, macaroons, cake pops, and more services for your special event. Please email info (at) edithsbistro dot com for our event coordinator to make the arrangements. You may bring your own cake to your party but we charge a $35 cake serving fee.