Is beef jerky gluten free? This is a common question for individuals with celiac disease and non-celiac gluten. Many brands offer gluten-free options for beef jerky. In this guide, we'll explore the world of beef jerky, which brands provide gluten-free varieties and a recipe of homemade beef jerky, also.
Is Beef Jerky Gluten Free?
Yes, beef jerky is generally gluten-free. This makes it a suitable snack for those following a gluten-free diet. The benefits of gluten-free beef jerky are that it provides a convenient and protein-rich snack option for people with gluten sensitivities or celiac disease. Additionally, beef jerky is easy to find in the USA, as it's a popular snack choice available in many stores.
Is Beef Sticks Gluten Free?
Yes, beef sticks can be gluten-free. But it's essential to check the specific product label to be sure it contains gluten or not. Beef sticks, like beef jerky (find out if you can share your jerky with your fluffy friends), are made from quality beef cuts, marinade, and dehydrated. They share similarities but differ in texture. Beef sticks tend to have a softer texture, while jerky can be tougher. Both snacks are designed for lasting freshness and don't need refrigeration until a few days after opening.
Is All Beef Jerky Gluten Free?
No, not all beef jerky is gluten-free. In the United States, it's mandatory for companies to disclose if their product contains wheat, a common source of gluten. To ensure gluten-free beef jerky, always check the ingredient list on the package. Some common ingredients to watch out for include soy sauce and hydrolyzed wheat protein, which are not for who avoid gluten.
However, beef jerky is generally keto-friendly. That means whether it is gluten-free or not, it is still a low-carb but high-protein source.
Here are information of some brands of beef jerky that you may want to know.
Is Bridgford beef jerky gluten free?
No, Bridgford beef jerky is not gluten-free. You can verify this information on Bridgford's FAQs website, where it's clearly stated that all of their products are gluten-free except for their jerky. Bridgford is a well-known brand in the USA.
If you're looking for a must-try dish from them that's gluten-free, you might want to explore their bread and roll products. They offer various options, and while their jerky may not be suitable for those with gluten sensitivities, their other products can still be enjoyed.
Is teriyaki beef jerky gluten free?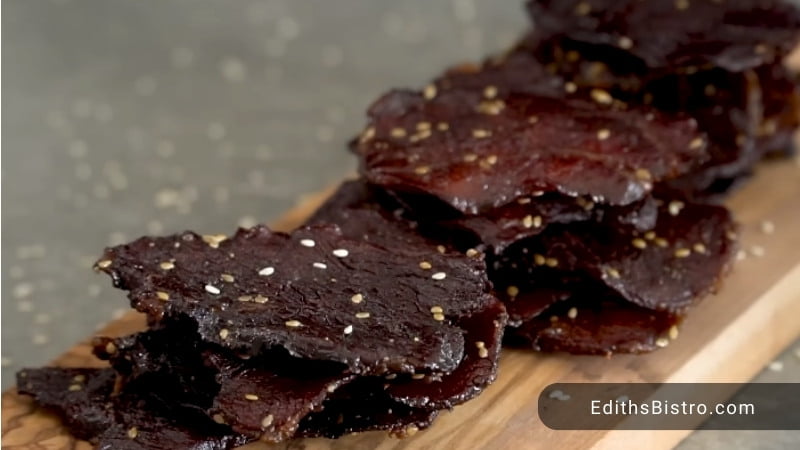 No, teriyaki beef jerky is not gluten-free because teriyaki sauce typically contains soy sauce. It often contains wheat and, therefore, gluten and is popular in jerky marinades. When cooking a gluten-free beef jerky dish, it's best to use a gluten-free soy sauce alternative, such as tamari or coconut aminos, to achieve that umami flavour without the gluten. These alternatives are readily available and can be used in place of traditional soy sauce in many recipes.
Is Mingua beef jerky gluten free?
No, Mingua beef jerky is not gluten-free. This information can be found on Mingua's Nutrition Info website, where it states that it's no longer a gluten-free product. Mingua is relatively popular in the USA, known for its unique and flavorful jerky varieties.
If you're looking for a flavorful beef jerky option from Mingua and gluten-free isn't a concern, their "Original Recipe" beef jerky and corned beef is a must-try. This classic flavor offers a delicious blend of seasonings that many jerky enthusiasts enjoy.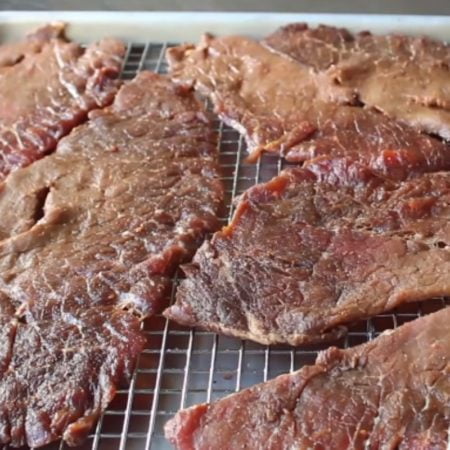 Is Homemade Beef Jerky Gluten Free?
Savory, sweet and homemade beef jerky, marinated to perfection and slowly dehydrated until tender and flavorful.
Ingredients
1

pound

thinly sliced top round beef or rump roast

1/4

cup

firmly packed brown sugar or a sugar substitute

1 1/4

teaspoon

pink Himalayan salt

1/2

teaspoon

freshly ground pepper

1/2

teaspoon

granulated garlic

1/2

teaspoon

granulated onion

3-5

tablespoons

water
Instructions
In a bowl, combine all the ingredients to create a marinade.

Coat each strip of beef with the marinade, ensuring they are well covered.

Place the beef strips in a gallon Ziplock bag, remove excess air, seal, and refrigerate for 12-24 hours to marinate.

When ready to dehydrate, line the lower rack of your oven with foil (not covering the sides) to ease cleaning and protect the heating element.

Preheat your oven to the lowest temperature (no lower than 155-160°F to avoid bacterial growth).

Hang the marinated beef strips on the top rack of the oven, ensuring no overlap for efficient drying.

Dehydrate for 5-8 hours, or until the meat turns dark brown and is completely dehydrated, without becoming too tough.
FAQs
Is Tillamook beef jerky gluten free?
Yes. Tillamook offers gluten-free beef jerky and meat sticks for those following gluten-free and sugar-free diets.
Is Oberto beef jerky gluten free?
Yes, Oberto beef jerky is gluten-free, as the company emphasizes quality and natural ingredients in their products.
Is Jack Link's jerky gluten free?
Yes, Jack Link's jerky offers gluten-free options, making them widely accessible in convenience stores and grocery stores.
References:
Welcome to Edith's French Bistro, an enchanting, high-end French culinary haven located in Plano, Richardson and Allen. Setting itself apart, this restaurant boasts a wide array of artisanal desserts, custom-crafted cakes, a blend of sweet and savory crepes, and an elegant high tea service. Furthermore, it serves invigorating beverages, delicious lunch and dinner main courses, and a delectable weekend brunch. To top it off, they also offer breakfast options throughout the day.
To augment your culinary experience, we've introduced a blog – a rich repository of culinary wisdom designed to inspire and guide individuals on their cooking journey. It's a treasure trove of knowledge spanning from the basics of cooking to more complex and advanced techniques. Whether you are a novice just beginning to explore the culinary landscape or an accomplished chef seeking new inspiration, you'll discover practical, beneficial advice that aligns with your culinary aspirations.