Chicken nuggets are a classic, a favorite, and an undeniably popular snack for both kids and adults. However, have you ever stopped to wonder how many chicken nuggets is 3 oz? Is it one super-large nugget or perhaps a handful of smaller ones? Let's find out the answer and gain more understanding about whether this amount is different in each kind of chicken nuggets or not.
How Many Chicken Nuggets Is 3 Oz?
On average, you can expect to get around 3 to 5 chicken nuggets in a 3-ounce portion. Generally, a serving of chicken about the size of your palm is roughly 3 to 4 ounces and resembles a deck of cards in dimensions. Meanwhile, an ounce of cooked meat is roughly the size of three dice.
Depending on the supplier, these measurements can vary significantly. Some chicken breasts can be double or even triple the recommended serving size. Therefore, it's essential to consult the packaging of the specific chicken nuggets you've purchased for the most precise information.
It's worth discussing why the 3-ounce metric is significant. Nutritional guidelines frequently cite a 3-ounce meat serving as a standard portion size. According to the United States Department of Agriculture (USDA), a 3-ounce serving of meat, comparable in size to a deck of cards, provides a balanced amount of protein, fats, and other essential nutrients. Being aware of the number of chicken nuggets that make up a 3-ounce serving can aid you in making more educated decisions about portion sizes and nutritional well-being.
The Variables Of 3 Oz Chicken Nuggets
Estimating a 3 ounce portion of chicken serving is not as straightforward as it might seem. Several factors can impact the count as:
Size of the nugget: Not all nuggets are created equal. Some are small and bite-sized, while others might be larger and more filling.
Brand: Different brands have different sizes and densities for their nuggets.
Homemade – Fast Food: Homemade nuggets can vary in size, depending on how they're made, whereas fast-food nuggets are usually uniform in size.
Examples Of 3 Oz Chicken Nuggets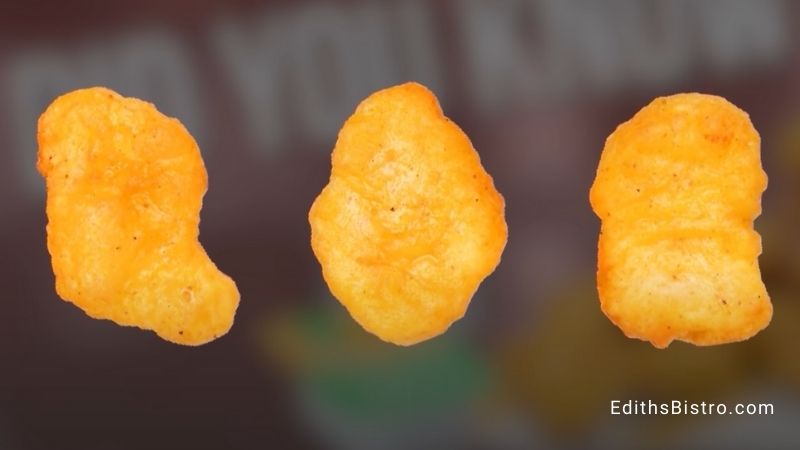 Examples of 3 oz of different chicken nuggets
To get a general idea, let's look at some examples:
McDonald's Chicken Nuggets: One McNugget weighs approximately 0.6 ounces. Therefore, you would need about 5 McNuggets to reach a 3-ounce serving.
Tyson Frozen Nuggets: A single nugget from Tyson typically weighs around 0.8 ounces. Therefore, you'd need approximately 4 of these nuggets to make up a 3-ounce serving.
Rotisserie Chicken: A 3-ounce serving of rotisserie chicken would be roughly equivalent to a piece of chicken breast or thigh that's the size of your palm. Alternatively, this could be made up of 2-3 wings or a couple of small drumsticks from a rotisserie chicken.
Chicken Strips: The number of chicken strips that constitute a 3-ounce serving would vary depending on their size and thickness. For instance, if the strips are rather thin, you might find that 4 to 5 strips would weigh around 3 ounces.
Homemade Nuggets: This can vary widely, but let's say your homemade nuggets are about 1 ounce each. You'd need 3 nuggets for a 3-ounce serving.
So, the answer can range from 3 to 5 nuggets, depending on various factors such as brand and preparation method.
What Does 3 Oz Of Chicken Look Like?
Your palm can serve as a rough guide for estimating a 3-ounce serving of chicken, but it's important to remember that hand sizes differ from person to person. Another way to estimate 3oz of chicken nuggets is generally falls between 3 and 5 nuggets.
To be more accurate, you may want to compare the size of your palm to a measuring cup. Alternatively, you could weigh the chicken using your hand as a reference point, then confirm the weight with a more precise method. If you're looking for exact measurements, a kitchen scale can come in handy for ensuring accurate portion sizes, such as knowing how 4 ounces of chicken looks like.
Nutrition In 3 Oz Of Chicken Nuggets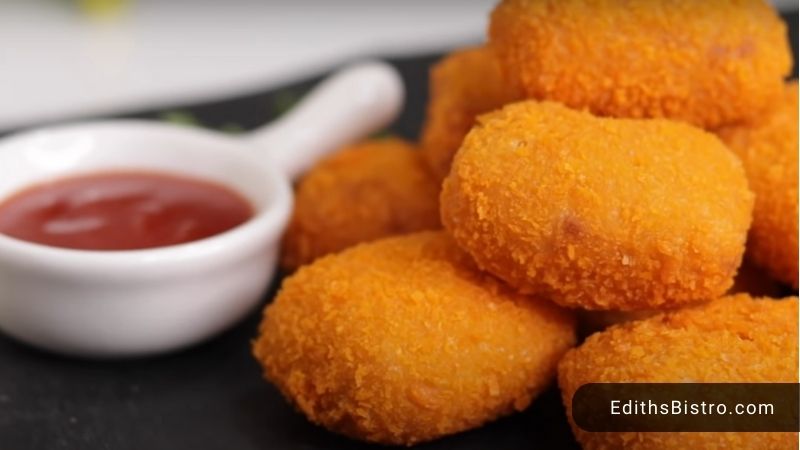 Nutrition in 3 oz chicken nuggets
The nutritional content of 3-ounce (about 85 grams) chicken nuggets can vary significantly depending on the brand, recipe, and cooking method. Typically, they are deep-fried and made from processed chicken meat, bread crumbs, and various seasonings. These are approximate values and can differ greatly depending on the specific product or homemade recipe.
Here's a general idea of what you might expect in 3 ounces of deep-fried chicken nuggets:
Calories: 180-250
Protein: 9-12 grams
Fat: 10-15 grams
Saturated fat: 2-3 grams
Carbohydrates: 10-15 grams
Dietary fiber: 0-1 grams
Sugars: 0-1 grams
Sodium: 400-600 milligrams
Cholesterol: 40-60 milligrams
It's also worth mentioning that many store-bought chicken nuggets contain added ingredients like preservatives, flavor enhancers, and high levels of sodium. If you're looking for a healthier version, you might consider making your own chicken nuggets at home using whole, boneless chicken breasts, whole-grain or almond flour for the coating, and baking instead of frying them.
Always check the nutritional information provided by the manufacturer if you're purchasing pre-made chicken nuggets, as the nutritional profile can vary.
FAQs
How much grilled chicken is 3 oz?
Generally speaking, 3 ounces of cooked chicken equals to to slightly over half a cup and would occupy about three-fifths of a measuring cup.
What does 3 oz of raw chicken look like?
It turned out that an average 3-ounce serving consisted of approximately 5 nuggets.
How many 3 oz of shredded chicken are?
About 3 ounces of shredded chicken typically amounts to just above a half cup. For precise measurements, especially when following a recipe, it's advisable to use a kitchen scale to weigh the chicken.
References:
Welcome to Edith's French Bistro, an enchanting, high-end French culinary haven located in Plano, Richardson and Allen. Setting itself apart, this restaurant boasts a wide array of artisanal desserts, custom-crafted cakes, a blend of sweet and savory crepes, and an elegant high tea service. Furthermore, it serves invigorating beverages, delicious lunch and dinner main courses, and a delectable weekend brunch. To top it off, they also offer breakfast options throughout the day.
To augment your culinary experience, we've introduced a blog – a rich repository of culinary wisdom designed to inspire and guide individuals on their cooking journey. It's a treasure trove of knowledge spanning from the basics of cooking to more complex and advanced techniques. Whether you are a novice just beginning to explore the culinary landscape or an accomplished chef seeking new inspiration, you'll discover practical, beneficial advice that aligns with your culinary aspirations.